THIS POST MAY CONTAIN COMPENSATED LINKS. FIND MORE INFO IN MY
DISCLAIMER
.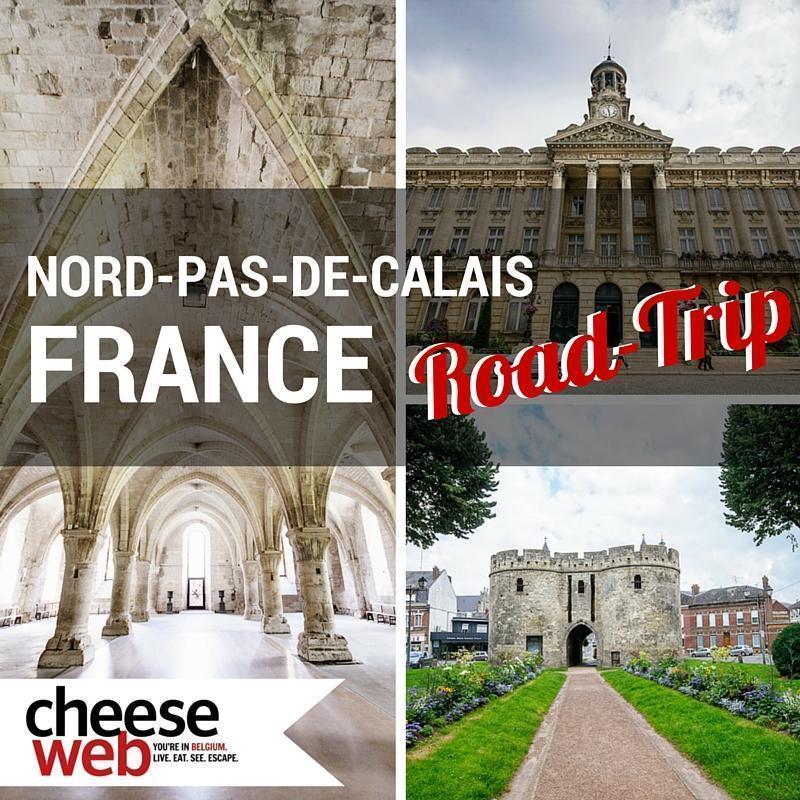 An accidental hotel booking landed us in an undiscovered part of Nord-Pas-de-Calais, France. After finding six great things to do in the Cambrai region, we're ready to return for more.
If there is one thing 10 years of expat life has taught me, it's 'go with the flow.' It's not always easy, but our most recent exercise in 'flowing' resulted in discovering a nearby region we probably never would have visited otherwise.
About a month ago, we began planning a weekend in Tournai. While searching for hotels in the area, I stumbled across a review for Chateau de la Motte in Sint-Truiden (although I didn't know at the time it was supposed to be in Sint-Truiden). It sounded nice, so I dutifully plugged it into Google and clicked on the first link to come up. It was in a village called Liessies, which I promptly put into Google Maps. I saw it was only an hour and a half from Brussels. That sounded about right, so I didn't look at the location too closely. I booked us in for a gastronomic night and didn't think of it again until the night before our scheduled road-trip.
I went back to my confirmation email to find the hotel address but it wasn't listed. Back to Google, I went, but when I plugged in Chateau de la Motte in Sint-Truiden, the website looked nothing like what I remembered. The sinking feeling set in when looked at the confirmation email and saw the .fr email address.
In my defense, there are seven different Chateau de la Mottes on the first pages of Google. But yeah, I screwed up. Luckily, I hadn't booked the Chateau de la Motte in Noailly, which looks lovely, but would have been a bit of a trek for an overnight stay.
Because it was simply a getaway for the two of us, and not work related, we quickly changed our plans from Limburg, Belgium, to Nord-Pas-de-Calais, France and we discovered a lovely, nearby region, purely by an accidental click of my mouse.
Most of us know Nord-Pas-de-Calais for Calais itself, gateway to the UK. We also recently discovered Lille, where we had a fantastic gastronomic weekend. However, this long and skinny French department, that shares much of its border with Belgium, has much more to offer for a day-trip or weekend getaway from Belgium.
Cambrai – City of Monuments and Mints
Our first stop in France was the city of Cambrai. We took an hour's stroll through the historic centre. The historic monuments are well marked with descriptive signs in French and English, as well as street maps to the next point on the walk. (We recommend snapping a photo of the map, as we did, to keep you from becoming lost in the tiny side streets.)
A good first stop is the city's tourist office, which itself is the historic Spanish House, built in 1595. In the basement, you can visit a small exhibition (French only) about the tunnels in the area. These former chalk quarries were used to connect the citadels in times of war. Visitors can take guided tours through the tunnels on weekends.
Three beautiful churches caught our eye as we walked through town, the baroque Jesuit Chapel, from 1962 (which can only be visited as part of a group), the Saint Géry abbey church, and the Cathedral of Notre Dame. This stunning cathedral is well worth a look, for its vivid stained glass and enormous vaulted ceilings.
Cambrai is also home to a UNESCO listed belfry, part of the 56 Belfries of Belgium and France, the fortified Paris Gate and a neo-classical town hall.
Cambrai is also famous for a particular minty candy called Les Bêtises de Cambrai (the mistake). Legend has it, a trainee candy-maker made a mistake while filling an order. The minty treats he created were refreshing and easy to digest and soon became a local favourite. (I guess he had a happy accident just like us!)
Abbaye de Vaucelles
Just south of Cambrai, through some very picturesque countryside, is the Abbaye de Vaucelles, one of my favourite stops on our Nord-Pas-de-Calais travels. Saint Bernard founded the Vaucelles abbey in 1132 and it was a prosperous part of the community for many years. Much of the huge complex was destroyed by German troops, in 1917, and the remains sat vacant. In 1973, a roof was constructed over the remaining building and restoration has been ongoing ever since.
You can wander through the restored rooms (although we were a bit limited by a wedding set up in process) and admire the beautiful vaulted architecture. The Monk's Quarters, also known as the Scriptorium, is a gem.
The site is open to tourists and can be rented for weddings and events.  The abbey also hosts several world-class events each year. In November, the festival of Saint Hubert is celebrated at the abbey and the last weekend of the month Vaucelles hosts a Christmas fair. Each March, Vaucelles abbey hosts an international Orchid Festival (which I've already marked on my calendar for next year.)
In addition to the stunning Sciptorium, the beautiful gardens, opened in 2005, are a wonderful place to relax and enjoy nature. There are endless varieties of roses, herbs, fruit, and a vegetable plot to admire and photograph.
It costs 7€ per adult to visit Vaucelles Abbey and will take about an hour, depending how much time you spend in the garden.
Dining at Chateau de la Motte, Liessies
After exploring the Abbey de Vaucelles, we lazily made our way to the Chateau de la Motte. It's located the tranquil, pastoral l'Avesnois National Park, with plenty of pretty country roads to explore. The building itself has been in the family for generations. Our room was small, basic, and honestly, a bit dated. However, the bed was comfortable, the towels were fluffy, and it was very quiet.
While we can't rave about the room itself, we can rave about the food and the service (which frankly, is more important to us anyway.) We had booked the 'Soirée Gastronomique,' which included our room for the night, our breakfasts, and a 4-course 'menu du Terroir.'
It was an excellent meal and the service was wonderful. The chef (who is the current owner) came around to each of the tables after each course to check in and chat. We haven't had service this warm and accommodating in a long time. If this review sounds tasty, why not book a table at Chateau de la Motte online now.
Musée du Verre, Sars-Poteries
A museum dedicated to glass, may not seem that exciting a prospect, but after our enjoyment of the Chihuly exhibition in Montreal, I was excited to see what this museum dedicated to Contemporary Glass Art had to offer. This bite-sized museum has an internationally recognised collection, and is, in fact, one of the most important in Europe.
The first room in the Musée du Verre contains pieces from Sars-Poteries' own glass-making heritage.  The museum was created by a local priest, Louis Mériaux, who exhibited some of the "bungled objects," or pieces made by factory worker for their personal use. His 1967 exhibition was such a success, the community decided to create a permanent museum to house some of the best pieces and the Musée du Verre was born.
The other six rooms in the museum, house works of Contemporary Glass Art organised by theme: Monumental Abstraction, A Historic Perspective, Landscapes: Natural and Urban, Optical Illusions and Perspectives, Symbolism: Fantasy and Spiritual, and The Human Form. There is also one temporary exhibition room, which is showing works by Yann Oulevay until August 25.
Admission is 3€ and the museum takes about an hour to visit.
Musée Matisse, Le Cateau-Cambrésis
Matisse, himself, founded the Musée Départemental Henri Matisse, in his hometown, in 1952. After his death in 1956, the Matisse Museum moved to its current location, the Fénelon Palace. Ownership transferred to the Nord Departement and it underwent a three-year renovation, reopening in 2002.
The Matisse Museum has the third largest collection of works by Matisse, including paintings, sketches, and sculptures.
In addition to Matisse's works, fellow local artist, Auguste Herbin, also has a wing in his honour. We particularly liked the huge, geometric stained glass window that illuminates a corner of his collection.
The museum also hosts temporary exhibitions. We were fascinated by the current 'To a Lifetime of Meaningful Encounters.' This exhibit looks at a series of inhabitants of Le Cateau, through their possessions. The subjects range in age, from an infant to retirees, and come from all backgrounds and walks of life. It's interesting to imagine distilling our own life stories into a series of our most meaningful possessions.
The Matisse Museum costs 5-7€, depending on the exhibition, and takes about two hours to visit.
The Forum Antique de Bavay and Archeological Museum
For our final stop of the day, we intended to take a quick look at some Roman ruins in Bavay. When we arrived at the site, we quickly realised what an important historical site this actually is. The Roman ruins, we knew so little about, are actually the remains of a vast (240m long and nearly 110m wide) forum, in what was once the capital of Belgian Gaul, Bagacum.
The site is still only three quarters excavated and work is ongoing. There is a modern Archeological Museum, complete with a 3D film explaining the forum, and informative displays containing items found here. It is impressive how many artifacts remain intact, as the site was virtually lost until its rediscovery in the 1700s.
It is possible to take a guided tour of the forum, however, due to the blazing sun when we visited, we opted to watch the film, explore the museum, and take a quick stroll through the site, before retreating to our air-conditioned car.
Visiting the Archeological Museum and Bavay Forum costs 5€ and will take 1-2 hours. Guided tours (in French) are included in the price and take place Wednesday, Saturday and Sunday afternoons and daily during school holidays. Tours last about an hour.
In the end, our trip to this part of Nord-Pas-de-Calais was a happy accident. There were plenty more things we didn't have time to discover and we hope to return and explore this area of France further. As Cambrai is only an hour and a half drive from Brussels, and even closer to Mons, it makes a great day-trip or weekend getaway from Belgium.
Have you explored Cambrai and Nord-Pas-de-Calais, France? Let us know what you discovered in the comments below.
For more great restaurants around the world, check out our Restaurant Review page.
Latest posts by Alison Cornford-Matheson
(see all)