THIS POST MAY CONTAIN COMPENSATED LINKS. FIND MORE INFO IN MY
DISCLAIMER
.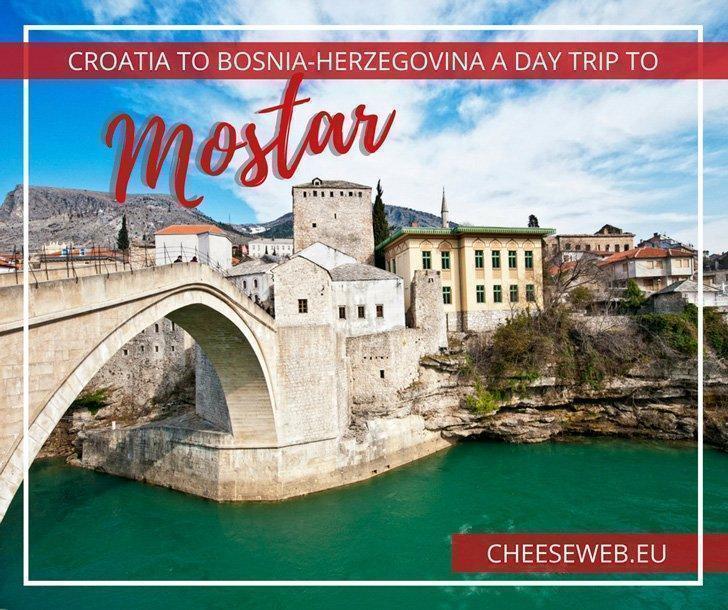 Looking for the best day trip from Dubrovnik, Croatia? Why not take a trip to Mostar, a UNESCO-listed city in Bosnia-Herzegovina. We share the details of how to follow our Dubrovnik to Mostar day trip, including plenty of delicious Bosnian food.
If someone had told me ten years ago, I'd spend a lovely spring day road-tripping through Bosnia-Herzegovina, I probably wouldn't have believed them.
Even now, few North Americans know much about the country, beyond it being the site of a horrible war, in the not so distant past. In Canada, we watched our peace-keepers head off to the cities and villages to help where they could. But since the conflict ended, Bosnia-Herzegovina has fallen off the radar of much of the world.
When Andrew and I were offered a day tour from Dubrovnik, Croatia, with a personal guide, I jumped at the chance to explore and learn more about a country and region I ashamedly know little about.
Surprised by Bosnia-Herzegovina
My first surprise came during the research phase of our trip. Despite the country's destruction, Bosnia-Herzegovina is already home to two UNESCO World Heritage sites (and you all know how I love to collect UNESCO sites). One of these, Mostar, was our day trip's ultimate destination.
We met our driver and guide, the fabulous Zoran, bright and early (for us anyway) on a Saturday morning. Zoran, a native of Dubrovnik, and his lovely wife Ivana, a Canadian with Croatian roots, run Vacation in Dubrovnik, a one-stop shop for tours and accommodation in the city.
Andrew and I don't often travel with a guide, but we were so thankful for Zoran's knowledge of the history of the area, not to mention his fantastic driving on some very twisty, beautiful coastal roads. Zoran is also passionate about good food, and you KNOW where we stand on that. It was a match made in CheeseWeb heaven!
My second surprise about Bosnia-Herzegovina was it owns a little bit of the coastline. That means if you drive from Dubrovnik to anywhere in the northern part of Croatia, you must pass through a bit of Bosnia. The border here is pretty perfunctory (no stamps in our passport) and it was only about a 10-minute drive before we found ourselves back in Croatia.
The Croatian coastline is achingly beautiful. Picture the best parts of California's Pacific Coast road, with a sprinkling of Greek islands and a dash of Sardinia's rugged volcanic mountains – too beautiful for words.
And then, all of a sudden, the whole thing flattened out, and we found ourselves in a vast, flat river delta. Fields of fruit and vegetables stretched out before us and farmers sold their fresh produce at the side of the road.
From there, we headed inland and crossed the Bosnian border for the second time. Things began to get hilly again, and we started to see some of the after-effects of the war.
Although signs of the war can be seen in the Dubrovnik area, if you look closely, Bosnia-Herzegovina hasn't received the same cash influx from tourism dollars as Croatia, and it has taken a lot longer to bounce back.
During our day-trip, we were constantly faced with conflicting images – here, reconstruction, bright colours, people out living their lives; there, bombed out shells of churches and cemeteries full of casualties of war. Evidence of reconstruction is everywhere and, hopefully, people will begin to come and explore this region, injecting it with some much needed financial support.
Visiting Počitelj, Bosnia-Herzegovina
The first stop on our Dubrovnik to Bosnia day trip was the lovely little hillside town, Počitelj. It is a historic site on the bank of the Neretva River and is a popular tourist stop on the way to Mostar.
The fortified town contains a few scattered homes and cafes, a beautiful mosque, a tower and a citadel, surrounded by the remains of a city wall. The primary construction dates from two periods – medieval and ottoman.
The Ottomans erected many of the town's public buildings, and Počitelj flourished. However, in 1878, Bosnia-Herzegovina was taken over by Austro-Hungarian rule, and Počitelj fell into neglect. The final blow for Počitelj came in 1992, during the Bosnian War. The town was bombed, and most of its population was displaced.
In 1996, Počitelj was added to the list of the world's 100 most endangered cultural heritage sites, by the World Monuments Watch. In 2000, the government of Bosnia-Herzegovina started a reconstruction project and encouraged Počitelj's refugees to return home.
Wandering around the town, in mid-March, we were among only a handful of visitors. Most of the buildings, including the mosque, were closed up tight.
We hiked up the uneven stone stairs to the citadel and found ourselves wandering through yet another European ruin, which would have been entirely roped off in North America. We were glad it wasn't.
We clambered inside the citadel and were afforded some beautiful views of the town and river below. From above, at least, Počitelj and its neighbours seemed like any other quiet, rural town, unaffected by the ravages of war.
Once we climbed back down the many stairs to the top of the town, we grabbed a coffee to restore us and set off for our next destination – Mostar.
From Počitelj, we continued through Bosnia-Herzegovina towards Mostar, where we were promised a treat for lunch. But first, we had to make one quick detour to check out a hole in a mountain.
Vrelo Bune, the Source of the Buna River
This particular hole, the Vrelo Bune, is the source of the Buna River. The Buna appears just south of Mostar in the town of Blagaj. This picturesque spot is surrounded by restaurants where people were enjoying the sun on a brisk but bright afternoon. The Buna is deep turquoise blue here and looks ice cold.
Right beside the rushing water is the Blagaj Tekke, a Sufi monastery, guesthouse and mausoleum built by the Ottomans. The buildings were undergoing restoration when we visited. The site has been nominated for UNESCO status, on the basis of its historical significance.
Visiting Mostar, Bosnia-Herzegovina
From Blagaj we jumped back in the car, for the short trip to Mostar, a city famous for its beautiful old bridge, the Stari Most.
Mostar is the fifth largest city in Bosnia-Herzegovina and one of the most important in the Herzegovina region. It was named for the bridge-keepers, or mostari, who guarded the bridge in medieval times.
The Stari Most, or Old Bridge, spanned the Neretva River, which flows through Mostar, for 427 years. It was built in the 16th century by the Ottomans and was destroyed on November 9, 1993, during the Croat-Bosniak War (which took place during the larger Bosnian War).
After the war, several international organisations, including UNESCO and the World Monuments Fund, formed a coalition to rebuild the bridge and the surrounding area. In 2001, reconstruction began with the aim to use similar technology and the same local materials as the original. The rebuilt bridge was inaugurated on 23 July 2004.
Walking across the bridge is tricky. It is very steep, and the stone is slick. While I was worried about tripping and falling on the bridge, some people intentionally jump off of it.
In fact, the tradition of jumping from the Stari Most is as old as the bridge itself. A formal competition began in 1968 and is held every summer. It is incredibly dangerous, and only the most skilled divers attempt the plunge into the cold river below.
Tasting Bosnia-Herzegovina's Food
Satisfied with merely walking over the bridge, Andrew and I had something else on our minds – food. We had been promised traditional Bosnian food for lunch and Zoran led us to his favourite restaurant in Mostar.
The advantage of exploring with a local guide is experience, and Zoran knows his food. Before we knew it, we were seated in a casual little place, and plates began arriving. (Luckily Andrew pulled out his phone and snapped some photos because I was so excited by the food, I forgot to photograph it!)
First, we were introduced to Bosnian burek, and what a happy introduction it was. These flaky pastries are stuffed with various fillings and twisted into a spiral. We sampled potato and onion, cheese and spicy meat filled varieties; purely in the interest of research of course.
Next up was a sampler plate of main dishes. I have no idea what most of them are, but it all tasted great. There were dolma, stuffed vine leaves; stuffed sour chard; spicy meat patties and a meaty stew as well as loads of veggies.
Unbeknownst to us, we saved the best for last – Bosnian ćevapi in somun. These were essentially spicy meatballs in soft fluffy pita bread. Gorgeous!
After lunch, we strolled off some of the calories we consumed, by walking through town. Unfortunately, Mostar's tourist attractions were still closed for the season, but we enjoyed our wander nonetheless.
Then it was back to the car to head back to Croatia. Zoran had one last foodie stop in store for us if we could make it back by sundown. We were on our way to Ston.
Oysters in Ston, Croatia
The village of Ston is famous for two things – vast and impressive city walls that look like a miniature Great Wall of China and oysters. I'm sure you can guess which we were after.
On our way to Bosnia-Herzegovina from Dubrovnik, Zoran had pointed out the oyster farms of Mali Ston (or little Ston). Even though our bellies were still full from our Bosnian feast, we knew we had to make room for Ston's famous oysters.
After a quick trip to see the wall and the salt pans of Ston we zipped back to Mali Ston as the sun was sinking into the sea. We pulled into a driveway owned by a friend of Zoran's who happens to be an oyster farmer.
We watched our treats being pulled straight from the bay and cleaned for us. We ducked inside the fishing-shed-cum-dining-room, poured a glass of the local home-brew wine from a jug, and sampled the biggest oysters we have ever seen.
In fact, we were missing Ston's oyster festival by just a week, so the oysters were at their peak. Our verdict? Incredible!
In fact, our entire day had been an incredible adventure and one we would never have had without our fantastic guide Zoran. We hope to return to Croatia and Bosnia-Herzegovina very soon, so we can explore this fascinating and beautiful (and tasty!) region even more.
Best Dubrovnik to Mostar Tours
If you aren't able to have Zoran take you to Mostar from Dubrovnik, here are some great day trip alternatives to consider:
We'd like to give a giant thank you to Zoran and Ivana of Vacation in Dubrovnik, who graciously sponsored our day-trip to Bosnia-Herzegovina. As always, we were free to express our impressions of the tour. We highly recommend you look them up when planning your next visit to Dubrovnik.
Latest posts by Alison Cornford-Matheson
(see all)