THIS POST MAY CONTAIN COMPENSATED LINKS. FIND MORE INFO IN MY
DISCLAIMER
.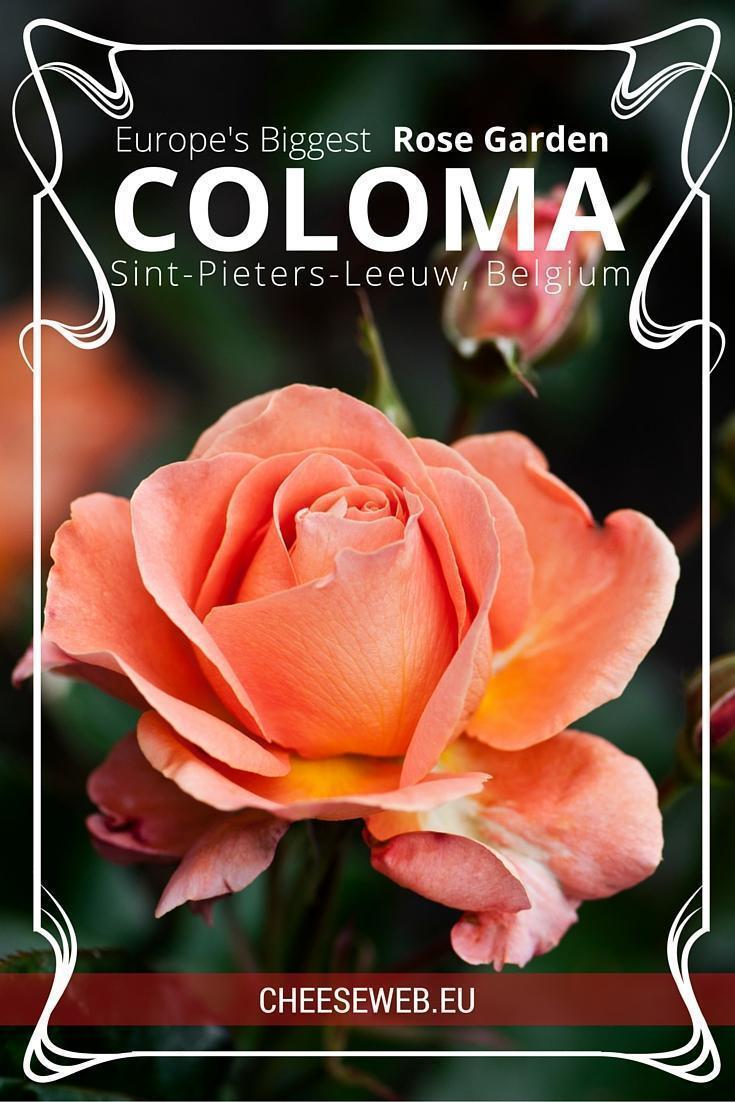 This time of year, when Belgium's only colours are shades of grey, I can't help but dream of the bright spring and summer days. I spend the winter months catching up on last year's travels and planning for a burst of garden photography in spring.
While my focus is often on tulip gardens in the low-lands, late last spring a friend tipped me off about a different kind of garden, whose blooms are of a more fragrant variety.
With more than 30,000 bushes and 3000 varieties of rose, Coloma Rose Garden is one of the largest in Europe. It's also right on the doorstep of Brussels in Sint-Pieters-Leeuw.
You'd be forgiven for passing by Coloma and never suspecting what lies beyond the stone wall and barricade of trees. As you enter the main gate, it looks like every other park in Belgium; tall old trees, shading narrow lanes and a stately 16th-century castle, complete with moat, in the middle.
But walk past the castle and through another gate in a hedge and you are transported to a world of colour and fragrance. The Coloma Rose Garden greets you with the first of 4 themed gardens.
It's impossible to tell how immense the Coloma rose garden is until you start wandering through it. Each hedge holds the passageway to another garden of colourful roses – Picture the Queen of Hearts' garden in Alice in Wonderland and you'll be on the right track.
On average, there are 200,000 roses in bloom throughout the season. The gardens are organised by geographic region. Of course, Europe is the most represented of continents, but there are roses from around the world. We were thrilled to find that even Canada is dedicated a tiny corner in Coloma.
There are pergolas and trellises for climbing roses, some statuary and well-placed benches so you can literally stop and smell the roses. At the far end of the rose garden, there is also a lookout tower so you can admire the colourful landscape from above.
There is little shade in the rose garden itself so be prepared if it's a hot summer day. You can escape the heat by popping back under the shade trees in the main park. You don't even have to worry about losing your ticket – there aren't any. Coloma Garden is completely free to visit.
I spent an incredible day there, photographing the roses. If you'd like to see the fruits (flowers?) of my labour, visit the Coloma Rose Garden photo gallery on ACM Photography. You can even purchase prints or downloads of your favourite rose photos. This little slideshow is a taste:

Coloma Rose Garden, Belgium Stock Photos – Images by Alison Cornford-Matheson
International Rose Garden of Coloma
J. Depauwstraat 1
1600 Sint-Pieters-Leeuw
For more great castle articles, be sure to visit our Castles in Belgium page where you'll find links to all of the castles in our little country.

View Coloma Rose Garden in a larger map
Latest posts by Alison Cornford-Matheson
(see all)