THIS POST MAY CONTAIN COMPENSATED LINKS. FIND MORE INFO IN MY
DISCLAIMER
.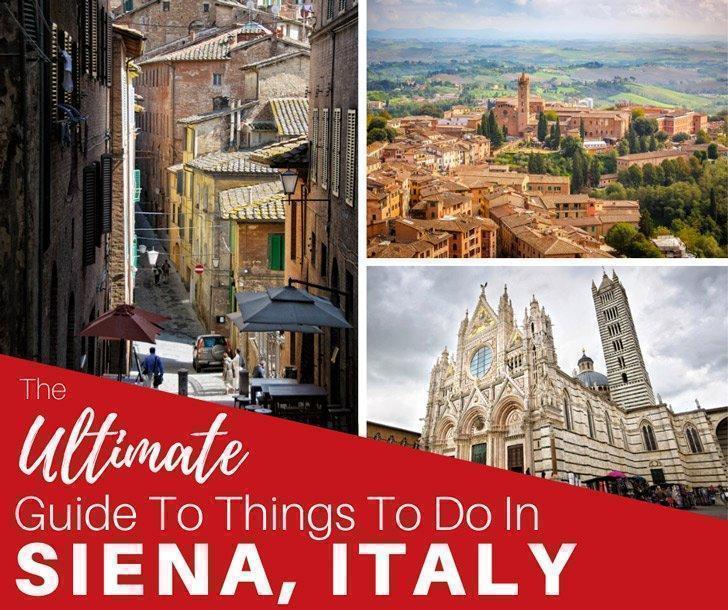 Here's a look at the best things to do in Siena, Italy, including Siena must-see attractions, where to eat in Siena, exciting Siena tours, best hotels in Siena, and more.
Well-known for its breathtaking historic architecture, gorgeous main square, and the rolling hills of the surrounding valley regions, Siena Italy is an exceptional travel destination. While it may not get as much attention as tourist meccas like Rome, Florence, and Venice, it has a lot to offer. There is so much that you can put on a Siena things-to-do list that you could easily spend days exploring the area.
History buffs have opportunities to learn about this historically significant city, while foodies can flock to one of the many fantastic restaurants and cafes. There are monuments, churches, palaces, and so much more to experience, that anyone can find something they simply can't miss.
Where is Siena, Italy?

Siena is a city within the Tuscany region of central Italy. It serves as the capital of the Siena province, and the city's center is classified as a UNESCO World Heritage Site. Florence is about 30 miles north of Siena, while Rome is approximately 145 miles to the south-southeast.
Best Things to Do in Siena, Italy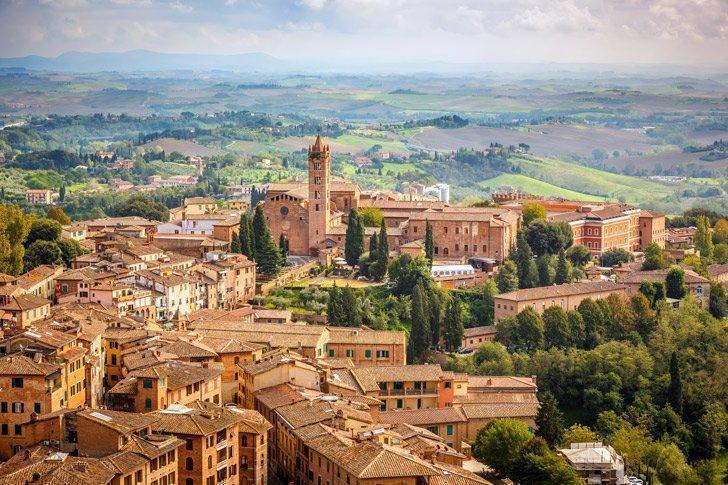 Siena Tuscany has a lot to offer. The city dates back to the Etruscan era, though the majority of the development took place during the Middle Ages. At that time, the city was expanding, and a variety of buildings were created, nestled in among the surrounding hills.
When it comes to things to do in Siena, Italy, there is something for everyone. Here's a look at some of the best options.
Piazza del Campo
If you're trying to figure out what to do in Siena, then start your trip with a visit to the Piazza del Campo. This Siena landmark square is incredibly unique, featuring a shell-shaped, brick-paved, central area that is lovingly surrounded by amazing feats of architecture, quaint cafes, and more.
TIP: For more insight into the city's history, book a guided walking tour here.
Plus, twice a year – on July 2nd and August 16th – the Piazzo del Camp hosts the famous Palio di Siena, a fantastic horse race that's fun for the whole family. A variety of parties and celebrations also make their way to this medieval square during the year, and there is almost always an active market.
If you head to the top of the square, you can marvel at the Fonte Gaia, a magnificent Siena fountain made of Carrara marble. It's a replica of the city's original fountain, which was made of more delicate Montagnola Sense marble and featured sculptures by Jacopo della Quercia, the remains of which are housed in the Santa Maria della Scala museum complex.
While exploring the square, you can also stop by the Palazzo Comunale (or Palazza Pubblico), Siena's town hall. There, you can find the Civic Museum, which is filled with works by local artists. Additionally, the Torre del Mangia overlooks the square, but more on that in a moment.
Torre del Mangia
If you want to experience one of the most spectacular views in Siena, then climbing the more than 400 steps (87 meters) to the top of Torre del Mangia is a must. Once you reach it, you are greeted by a 360-degree view from the tower, and it is truly awe-inspiring. Along with an overview of the square, you can also see the Cathedral and the distant hills that surround the city.
Piazza del Duomo
If you're looking for things to do in Siena, the Piazza del Duomo is another square surrounded by potential activities.
In particular, it is home to Siena's Duomo – the Cathedral of Santa Maria Assunta – which features a stunning black and white Romanesque-Gothic façade. Inside the church – dedicated to the Assumption – you'll get to view an amazing floor that is filled with symbols and religious figures.
Inside the Piccolomini Library, you can enjoy the Pinturichhio frescoes. Plus, the Piccolomini Chapel has four statues that were carved by Michelangelo during his time there (between 1501 and 1504).
TIP: Skip the lines by buying your tickets online here.
After visiting the Cathedral, you can stroll to the Baptistery, which was built in 1325. It's one of the city's most important religious sites as it once hosted the baptism of every Siena inhabitant, regardless of social status. Inside, you'll find the marble and bronze baptismal font, as well as multiple frescoes.
The Complex of Santa Maria della Scala
Once a civic hospital, the complex was transformed into a museum, and it's located near the Duomo of Siena. During the 1330s, many frescoes were commissioned by Santa Maria della Scala along with a selection of altarpieces.
Several museums call the complex home, spread across four floors. Plus, there are monumental areas, giving you more to explore while there.
TIP: Get your combined pass for the Santa Maria della Scala Complex and the Museo dell Opera del Duomo online here
Museo dell-Opera del Duomo
On your list of what to see in Siena, you need to make sure Museo dell-Opera del Duomo is on your agenda. It's one of the oldest private museums in the entire country and is located just to the south of the Cathedral.
The building was designed to be an extension of the church, but it was never completed. Now, it holds statues by Giovanni Pisano that were initially part of the Cathedral façade as well as works by Duccio da Buoninsegna.
Church of San Domenico
In the western part of Siena's historic town center, you can find the Church of San Domenico. The immense structure features architecture from a variety of periods, mainly because additions and changes have been made over the years.
Inside, you can find the Chapel of Santa Caterina, which features some breathtaking marble sculptures and extravagant frescoes. Additionally, the main nave has stunning alter pieces and ornate fixtures, including golden candelabras.
Porta Pispini
During the Middle Ages, Siena defended itself with robust structures that surrounded the city's center. The Porta Pispini – also known as the Gate of the Water Spout – is one of the few portals from that era that is still standing.
The arches are beyond impressive, and the inner gate's wooden doors and frame are still intact. Even the roofline is something to behold. Plus, if you head to the right of the gate, you can also lay your eyes on some of the city's original walls, as well as a painstakingly preserved guard tower.
More Tours and Things to Do on Siena Italy
Check out these great guided tours of Siena and local experiences from our partner GetYourGuide:
Best Day Trips in Siena Italy
Check out these amazing day trips from Siena Italy from our partner, GetYourGuide:
Best Restaurants in Siena Italy
A trip to Siena wouldn't be complete without spending some time exploring the local cuisine. There are plenty of restaurants and cafes to choose from, many of which can provide you with a splendid meal.
But most travellers don't have time to try them all. If you're looking for the best restaurants in Siena, consider starting with these.
Ristorante Tar Tufo
When it comes to Siena Italy restaurants, Ristorante Tar Tufo is the fine-dining experience you don't want to miss. It's located in the town center's southern section, just a bit down the Via del Sole. On the menu, you'll find a wide variety of traditional Italian dishes. Plus, there is a stellar tasting menu that lets you explore the cuisine through a series of small courses, starting with appetizers and going all of the way through dessert.
Castel Monastero's La Cantina
Located in the Castel Monastero – a luxury hotel – La Cantina is run by famed chef Gordon Ramsay. The menu features local dishes made using traditional recipes. Plus, the dining experience is intimate yet cozy, and the wine list is divine, featuring a wide selection of Tuscan wines.
Tre Cristi
If you are a fan of seafood, head over to Tre Cristi for an exquisite Meditteranean-inspired meal in Siena's city center. The ambiance makes it the perfect location for a romantic meal, and the wine selection is carefully curated to complement the various dishes. You can also enjoy the architecture of the building – which was constructed in the 15th-century – while you dine.
Osteria Boccon del Prete
Located just a bit off the beaten path but still close to the city center, Osteria Boccon del Prete offers an elegantly modern experience inside a historic building. The food quality is exceptional, making it a luxurious dining experience that couples classic concepts with unique presentations or the occasional interesting twist.
Ristorante Enzo
If you want to enjoy a meal that combines traditional recipes with modern takes, Ristorante Enzo is a great choice. The food is delicious, and the portions are very generous, so there's practically no chance you'll leave without feeling completely satisfied. Plus, the prices are very reasonable, making this an excellent choice for travellers on a budget who still want to experience some of the best of what Siena has to offer.
Where to Stay in Siena Italy
If you want to spend more than one day exploring the Siena attractions, you'll need a place to stay for the night. Luckily, there is a multitude of options to choose from, including everything from affordable yet comfortable rooms to opulent retreats. Plus, many of them are in excellent locations, making them suitable bases for day trips from Siena.
If you want to cap a day of bouncing between the various Siena Italy points of interest by resting in some fantastic accommodations, here are a few options worth considering.
1. Hotel Porta Romana
Located just 0.7 miles from the Siena city center, Hotel Porta Romana is comfortable, convenient, and affordable. The rooms are inside an 18th-century villa but feature a modern design. Plus, there's a hydromassage pool outside, giving you a great place to relax when you aren't exploring. For added convenience, a bus even stops right outside of the hotel, making it easy to get around. Many of the rooms also have views of the countryside, and all guests get access to free Wi-Fi.
2. Il Lavandeto
Just two miles from the Piazza del Campo, Il Lavandeto offers a unique experience. The property is a farm stay, so it has exceptional outdoor spaces for guests to enjoy. Plus, you gain access to modern conveniences, including free Wi-Fi, air conditioning, and a well-appointed contemporary bathroom. Breakfast is available, too, so you can choose to purchase a great meal before heading out sightseeing.
3. La Finestra su Siena
If you need more space during your stay, La Finestra su Siena is hard to beat. It's a two-bedroom apartment located just 0.7 miles from the Piazza del Campo, making it both spacious and convenient. Inside, you'll find air conditioning, a kitchen, and a dedicated dining space. The views from the bedrooms are breathtaking, making the stay even more enjoyable.

Latest posts by Catherine
(see all)