THIS POST MAY CONTAIN COMPENSATED LINKS. FIND MORE INFO IN MY
DISCLAIMER
.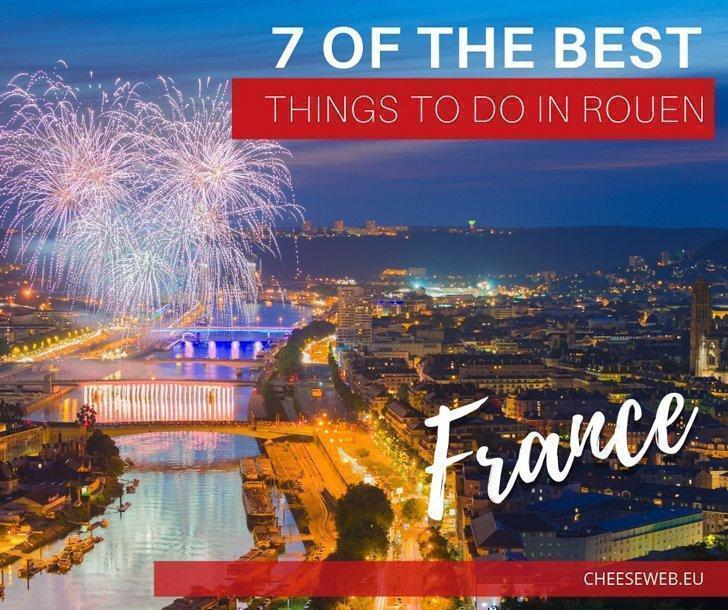 Rouen, the capital city of Normandy, France, is often overlooked as a tourist destination. However, Catherine shares the best things to do in Rouen and why it's one of the top cities in Northern France for slow travellers.
Paris, Nice, Bordeaux, Marseille; when people imagine cities in France, those are usually the ones that come to mind. While heading to any of these cities can make for a magnificent trip, they are all major tourist destinations. If you want to enjoy a historical French city without some of the crowds, then Rouen should be on your travel shortlist.
Where is Rouen, France?
Located in the north of France, Rouen is nestled between Paris and the port of Le Havre, which sits on the banks of the Seine. It served as the capital of the Normandy region and was one of the most prosperous cities in all of medieval Europe.
Why Visit Rouen, France?
Rouen is a vibrant city punctuated by stunning architecture and known for its storied history. Classified as a "City of Art and History," the town is home to over 200 protected sites, so there are tons of Rouen attractions worth exploring.
The old buildings and original cobblestone streets are just begging for visitors to meander along them. Taking in the quaint city is almost like taking a stroll back in time, and the gothic churches located on the charming streets are sights to behold.
History aficionados can experience the effects of multiple eras. Along with the medieval buildings that remain standing today, some of the damage the city incurred during World War II is still visible, even though extensive reconstruction efforts have taken place. Additionally, Rouen's monuments and museums are brimming with historical intrigue.
The best way to visit Rouen is as part of a larger trip to the region (check out our ultimate guide to Normandy for loads of tips) but if you are short on time, you can also do it as a day trip from Paris.
Best Things to Do in Rouen, France
Rouen tourist attractions are plentiful. Ranging from historic buildings, stunning cathedrals, and modern museums, there is no short answer if you are wondering what to see in Rouen.
Even though the city is smaller than many of the other popular destinations in the country, there are plenty of things to do in Rouen, France. If you are trying to figure out what to do in Rouen, here are some must-sees in the city and surrounding area.
1. Rouen Cathedral
For four years toward the end of the 1870s,
Rouen Cathedral
held the distinction of being the tallest building on the planet thanks to its neo-gothic tower, an addition created after the original renaissance one was destroyed by a lightning strike.
Once inside, colourful light shows play across the walls and floors thanks to the magnificent stained-glass windows, including some that remained intact despite the damage caused in World War II.
There are also several historical figures who are buried in the beautiful church. Richard the Lionheart and Rollo and William I, both early Norman rulers, have their final resting places in the cathedral.
The cathedral was also a favourite subject of the famed painter Claude Monet; he painted it over 30 times between 1892 and 1893, capturing for the ages how the awe-inspiring structure looked during different seasons and in various weather conditions.
2. Musée des Beaux-Arts
Home to the second-largest collection of Impressionist art in all of France, the
Musée des Beaux-Arts in Rouen
is a favourite among art lovers across the globe. The museum is home to paintings, drawings, and sculptures from across the centuries, ranging from the 15
th
to the 21
st
.
The works of many famous artists are displayed at the Musée des Beaux-Arts. Caravaggio, Nicolas Poussin, Théodore Géricault, Pierre-Auguste Renoir, and (of course) Claude Monet are all viewable by the public, along with many others.
3. Abbatiale Saint-Ouen
A church for the Benedictine monastery of Saint-Ouen, the
Abbatiale Saint-Ouen
is a stunning 14
th
-century masterpiece of late Gothic design. The tower is topped by a pinnacle section known as the "Crown of Normandy," and its impressive size makes the church a true wonder.
In the interior, visitors are greeted by the magnificent vaulted ceiling and exquisite stained-glass windows, allowing colourful light to pour into the inner sanctuary. The famous organ built by Cavaille-Coll is also a must-see once inside and is even still used for concerts today.
4. Aître Saint-Maclou
When it comes to Rouen, France points of interest, the
Aître Saint-Maclou
should be on everyone's list. This intriguing Rouen sightseeing attraction is a beautiful medieval building that serves as the home of Ecole Supérieure d'Art et Design or Regional School of Fine Arts.
The Aître Saint-Maclou has a bit of a macabre history, playing a significant role in the town during the 1348 plague known as the "Black Death." Some of the building's galleries feature artwork that pays homage to its past, including images of skulls, funeral rites objects, gravediggers tools, and bones.
5. Palais de Justice
Another splendid example of medieval architecture, the
Palais de Justice
was once a meeting place of the Normandy Parliament. Today, the Rouen Court uses the gothic masterpiece, so it is not open to tourists. However, simply taking in the ornate façade and breathtaking gargoyles makes it worth a trip.
Plus, one of the courtyards is home to the Monument Juif, the remains of a stone building that once served as a Yeshiva and dates back to around 1100.
6. Tour du Gros-Horloge
A quintessential thing to see in Rouen, the
Tour du Gros-Horloge
is a massive clock tower just to the south of Palais de Justice and is located next to a renaissance pavilion. The gothic tower was constructed in 1389, originally for defence. However, the decorative clock was added in 1889, making it an artistic beauty and historically significant.
7. Eglise Jeanne d'Arc
While the church has a modern look, it provides visitors with the opportunity to explore the amazing spirit of Joan of Arc, who spent her last days in Rouen. The
Eglise Jeanne d-Arc
was constructed at the Place du Vieux Marché, the site where Joan of Arc was turned into a martyr when she was burned at the stake and is meant to commemorate the saint. The shape of the roof is intended to mimic flames, bringing intrigue to the exterior, while the stained-glass windows make the interior spectacular.
The Best Hotels in Rouen, France
No trip to Rouen, France would be complete without the right accommodations. Luckily, the town offers a lot of options, ensuring your trip is comfortable and memorable. Here are five worth considering.
1. Les Initiés
Set just across from the Palais de Justice and in the heart of Rouen's historical center, Les Initiés is as convenient as it is beautiful. The hotel's bar and restaurant offer regional cuisine, and guests can enjoy a continental breakfast six days a week (not including Sundays or French holidays). Plus, you'll enjoy modern amenities like free Wi-Fi, ensuring you can remain connected during your travels. It is also considered an exceptional value, so you can save money without sacrificing comfort.
2. Mercure Rouen Centre Cathédrale
Located just 550 feet from the Rouen Cathedral, Mercure Rouen Centre Cathédrale offers guests modern amenities and an exceptional location. The interior is contemporary, featuring clean lines and bright colours. Guests also have access to a full breakfast, which you can choose to enjoy in the comfort of your room, and a hotel bar.
3. Astrid
Another excellent option for budget-conscious travellers, Astrid is located near the city center and right across from the train station. The design is modern, yet comfortable, with pops of colour to make the spaces exciting. Plus, access to the hotel Wi-Fi is free, so you can share pictures of your trip with friends and family with ease. You can also choose to add on a breakfast service for a very reasonable price, making Astrid even more convenient will keeping your trip affordable.
4. Le Rive Droite
If you are a party of four, then booking the apartment at Le Rive Droite is a great option. It features one bedroom and has a sleeper sofa, ensuring everyone can sleep comfortably. Plus, there is a full kitchen, bathroom, balcony, and even a washing machine. The location is also convenient, sitting just 1.4 miles from the Rouen Cathedral. Guests also have access to free parking, which is incredibly beneficial for anyone travelling by car.
5. Hotel de Bourgtheroulde
The Hotel de Bourgtheroulde, a boutique hotel in Rouen's historic city center, is incredibly well-appointed. Along with an indoor pool and fitness center, there is also a spa on-site that offers a range of services. Plus, you can enjoy the restaurant, featuring traditional French cuisine, as well as the breakfast buffet and bar. The building itself is also a wonder, representing luxury at every step.
Find more of the best hotels in Rouen
Latest posts by Catherine
(see all)