THIS POST MAY CONTAIN COMPENSATED LINKS. FIND MORE INFO IN MY
DISCLAIMER
.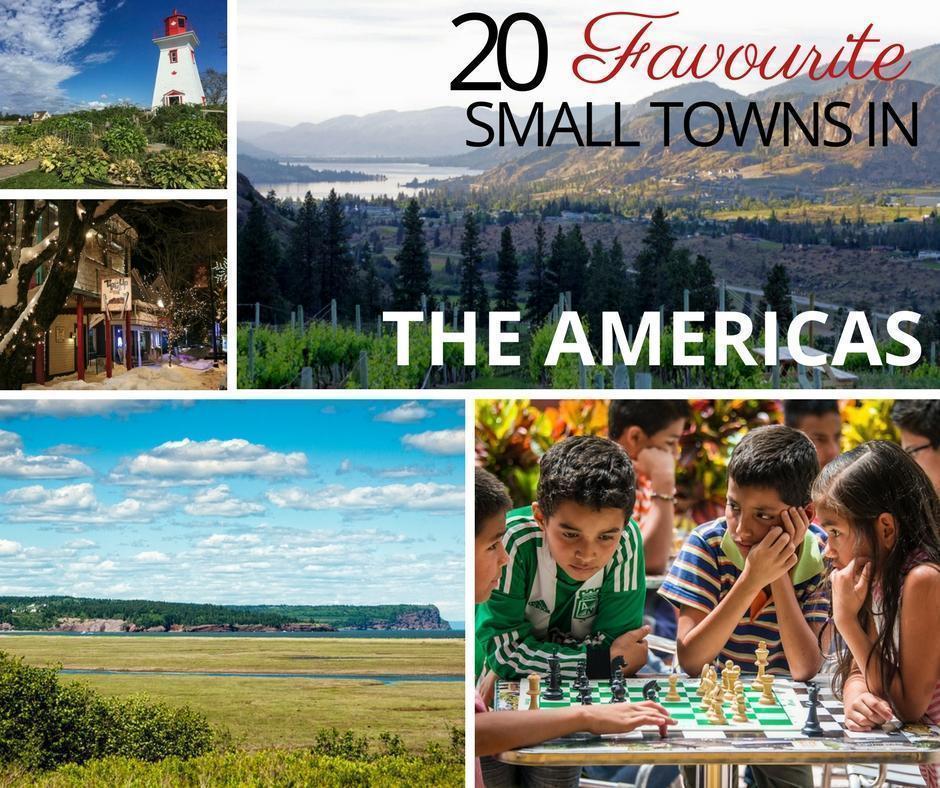 20 travellers share the best small towns in the Americas you've probably never heard of but should add to your travel bucket list.
First, we explored the towns of Europe and Africa, then we discovered towns in Asia and Australia, and today we're showing you what the Americas have to offer. Being back in New Brunswick for the past year, we know Canada excels at picturesque, friendly towns. (So much so, I couldn't resist sharing one of my favourites below.) 20 of our travelling friends have shared their favourite towns from across Canada and the USA, as well as South and Central America and the Caribbean. There is something for everyone in this list, so read on!
1. St. Martin's, New Brunswick, Canada
St. Martin's is the quintessential East Coast Canadian town. It was built around the shipbuilding and fishing industries on the dramatic Fundy Coast and you can still see lobster boats tied up at the wharf. The tides are so dramatic here, at low tide, those same boats sit on the ocean floor. Like so many similar villages, as the fisheries have declined, St. Martin's has had to look to other sources of employment and small-scale eco-tourism has become the livelihood of many residents.
St. Martin's is the gateway to the stunning Fundy Trail Parkway, a 19km drive through the UNESCO-listed Fundy Biosphere Reserve. Stop and explore the unspoiled beaches, waterfalls, and forests of the park along the route. The more adventurous can hike the Fundy Footpath, an epic 41km trail that takes 3-4 days to complete. It's been listed as one of the best (and most challenging) trails in Canada. Fuel up back in St. Martin's on the world-famous seafood chowder and take a walk on the rocky beach. At low tide, you can explore the sea caves or hop in a kayak and view the village from the water. Read more about St. Martin's, New Brunswick.
Contributed by Alison of CheeseWeb
2. Gibsons, British Columbia, Canada
Everyone goes to Vancouver in British Columbia, and I get that; I love the city too. But all they need to do is catch a bus to Horseshoe Bay and take a very scenic ferry. Then they will be in my favourite small town, Gibsons.
In summer, visitors can kayak around sailing boats with the mountains as a backdrop or hike to Soames Hill. After that, you'll be in need of some craft beer at Persephone to celebrate. Although quieter on the tourist front, Gibsons is still beautiful in winter when the sun sets in pink tones over the snow-capped mountains. Gibsons is just the start! The Sunshine Coast is packed with small towns offering beaches, bike rides, and boat tours!
Contributed by Gemma of Two Scots Abroad
3. Naramata, British Columbia, Canada
If you look up the tiny town of Naramata, you'll probably find the words "wine bench" associated with it. Naramata is located in the Okanagan wine valley. Known as the "Napa of the North," the Okanagan Valley produces Canada's premier wines, tree fruits, and some of the country's best food. Naramata is the best location to take all this in and is only a short 15-20 minute drive from the city of Penticton or an hour drive from Kelowna.
Situated on Okanagan Lake with sprawling boutique vineyards, orchards and beaches, Naramata has all the excitement of the nearby cities, such as Penticton and Kelowna, without the summertime crowds – although, you might want to keep an eye out for the wild peacocks who roam the streets of this sleepy town.
For anyone coming to the town of Naramata planning an itinerary can be difficult when there are so many wineries to choose from. A tour is highly recommended, but they take you to all the same wineries as everyone else. I recommend driving/cycling/touring along the Naramata bench with an open mind and a map available at any of the wineries. Pop into any of the wineries that speak to you. I suggest Black Widow Winery, Serendipity Winery, and Deep Roots Winery for a unique taste of the smaller and lesser known Okanagan wines.
Stay at the historic and quaint Naramata Heritage Inn in the heart of town and dine at Hillside Bistro for a view of the summer sunset.
Contributed by Murissa of The Wanderful Traveller
4. Ganges, British Columbia, Canada
If you've ever visited the Canada's West Coast, you may have heard talk of a magical little island in the Salish Sea, "Down by the bay – Where the watermelons grow – Back to my home." Sound familiar? For all the Raffi fans out there, of course it does. This land I speak of is Salt Spring Island, home to a number of famous Canadian musicians, artists, and authors, Raffi included.  Nestled down by the bay is the magical village of Ganges.
After a long day of exploring the Islands many beautiful natural spaces, Ganges is that sweet siren song that invites the weary explorer for a scrumptious meal. The palate is never disappointed by the vast array of taste bud tantalizing dishes at a hearty selection of restaurants from local hot spot Barb's Bakery, to a mouth watering brunch at the Treehouse Cafe, to delectable Italian dining worthy of dressing up for at Auntie Pesto's, to at home comforts featuring local products at Salt Spring Inn.  My personal favourite and the meal that came as the greatest surprise to me was the sashimi dishes that I enjoyed at Moby's Pub.
Now I'd be remiss if I didn't mention the shopping in Ganges, which provides a nice break from hiking and eating.  Being a lover of bookstores, you must spend some time wandering the aisles of Salt Spring Island Books. They carry many Island authors. Before leaving the Island, stop by the Saturday Market in the park to pick up a little bit of Salt Spring Island to take home with you – from locally crafted elixirs, scrumptious baked goods, sweet smelling bath treats to an array of handcrafted goods. No doubt about it, a visit to Ganges leaves you dreaming of a return to the Island.
Contributed by Erica of Roamancing Travel Magazine
5. Victoria-By-The-Sea, Prince Edward Island, Canada
Victoria-By-The-Sea is a charming seaside town, only a 40-minute drive from the city of Charlottetown, making it ideal for a day trip or an overnight. Kayak the Northumberland Strait; clam dig for your dinner, also along the Straight on its copper tinged beach; pop on a bike for plenty of photo opportunities of Victorian homes and lighthouses, and top it all off with a cosy bowl of clam chowder at the Landmark Cafe. Victoria-By-The-Sea is a place you won't forget and truly defines the natural beauty and kindness of Canada.
How to get there: From Charlottetown, take the 236 highway to the TransCanada Highway all the way along to Highway 116 (Hampton), which will take you right there.
Contributed by Natalie Taylor
6. Wolfville, Nova Scotia, Canada
Friendly people eager to offer advice and give directions; A range of dining options from a national coffee shop chain to a stunning winery restaurant dedicated to local ingredients; A heritage inn on a main street made for strolling and a surrounding landscape dotted with vineyards. Add to that a lively year-round farmer's market featuring locally handcrafted products, musical entertainment, and seasonal produce, and close proximity to the world's tastiest lobster and highest tides on the Bay of Fundy. If that doesn't equal the perfect small town, I don't know what does!
That town is Wolfville, Nova Scotia, just a one-hour drive north-west of Halifax Stanfield International Airport. It's a great stop on a road trip, or stick around for a while so you can take a tour of wineries in the Annapolis Valley, check out the local theatre and art galleries, or attend a music or film festival.
Contributed by Tracey of Solo Traveler Blog
7. Bragg Creek, Alberta, Canada
Just a 30-minute drive from Calgary, Canada's fourth-largest city, is the quaint community of Bragg Creek. Nestled among the foothills of the Canadian Rockies, this sleepy hamlet is a sweet escape from the bustling big city. Designed to look like a frontier town, you'll feel like you've taken a time machine to the days of the Wild West when you arrive on the main street.
The tiny town is home to a handful of cute boutiques specialising in everything from used books to local artwork. The popular PowderHorn Saloon offers a western-style bar with live entertainment, while family-friendly Frontier Candy serves up a local favourite, Mackay's Ice Cream, in just about every flavour you can imagine. You'll also find a few fine-dining restaurants, a unique yoga studio, and cosy coffee shops. If you like to soak up local culture, be sure to visit on a long weekend in the summer when the town comes alive with parades and street festivals.
But Bragg Creek is much more than a typical town. Just a short stroll from the edge of town you'll find Bragg Creek Provincial Park. It's the perfect place to pitch a tent, have a picnic, or go for a hike into Kananaskis country. You can even try your hand at reeling in a few fish from the Elbow River.
Contributed by Heather of Wanderlust Wayfarer
8. Carmel-by-the-Sea, California, USA
Imagine a place with no street addresses, mailboxes, parking meters, streetlights or fast food restaurants. Where streets are lined with fairytale cottages, there is a no high heels law, and Clint Eastwood was once Mayor. Sounds surreal, right? I assure you this special realm exists and should be on everyone's bucket list. Located 15 minutes from the Monterey Airport on California's central coast, Carmel-by-the-Sea is a charming, European-style village oozing with character. Just the chance to walk along its secret passageways and quaint streets is reason enough to visit, not to mention the hundreds of unique shops, art galleries, and restaurants waiting to be explored. Rated by Travel & Leisure as the #3 best city for romance, a stroll on the white-sand beach that hugs the Pacific Ocean is a must. If you're looking for something a bit different, try experiencing the village via the Carmel Wine Walk By-the-Sea (a self-guided walk to the various tasting rooms), Carmel Food Tour or the Carmel Art Tour (a great way to meet working artists and learn about Carmel's Bohemian history). However you choose to spend your time, the one-square-mile beach village is truly a gem that is bound to impress.
Contributed by Solmaz of The Curious Creature
9. Sugar Hill, New Hampshire, USA
When it comes to sweet little towns, there is one town in New Hampshire that comes to mind.  Sugar Hill, New Hampshire is the quintessential country town. To get there, head up to the White Mountains, past the busy area of Franconia Notch, to the quiet town of Sugar Hill.  Full of natural beauty in every season, Sugar Hill lures you in with its simple charm.  Wander the fields of purple lupine in the summer, take a hike in the fall while enjoying the incredible foliage, or head out skiing in winter's sparkling snow. With views of Franconia Ridge, yet away from the highway, this town is picture perfect. For those just looking to get away from it all, Sugar Hill's peaceful atmosphere will melt your stress away.  If Norman Rockwell tried to paint a town capturing the essence of New Hampshire, he would paint Sugar Hill.
Contributed by Cathy of Roar Loud
10. Hillsborough, North Carolina, USA
Many people come to Hillsborough, North Carolina for a glimpse at its past through sites like the Antebellum Plantation known as "Ayr Mount" and the Alexander Dickson House, which served as the Confederacy's last headquarters. Beyond the history, visit Hillsborough to enjoy its laid-back atmosphere against the backdrop of the busy cities Raleigh and Durham.
Speed in via I-85, about five miles from South Durham and Duke University. However, Highways 70 (known as Hillsborough Road in Durham) and 86 offer more scenic routes. Churton Street runs through the town's historic district, and quite a few of its shops, restaurants (eat and drink at Wooden Nickel Pub), and bars.
A nice Riverwalk starts near Weaver Street Market off Churton and runs along the Eno River, adorned with markers addressing General Cornwallis's time there during the Revolution. Nash Street runs into the other side of the Eno, also through local favourites like Hillsborough BBQ and Mystery Brewing Company.
Be careful when visiting this Central North Carolina town because you might want to buy a house there. I'll go as far as guaranteeing you'll like the area, as Orange County's motto says, "You'll be a fan for life."
Contributed by Duke of Duke Stewart Writes
11. Berlin, Maryland, USA
On the Eastern Shore of Maryland, just 7 miles from the Atlantic Ocean sits Berlin, a historic small town with a population of under 5,000 people. Mature trees and charming Victorian homes line Main Street, which leads to the town's 3-block commercial district. Despite its small size, Berlin's shopping offers great food, cool shops, antique stores, art galleries, and more. The historic Atlantic Hotel, one of the town's three lodging options, was prominently featured in "Runaway Bride," a 1998 motion picture starring Julia Roberts and Richard Gere. Just outside of the shopping district sits Burley Oak Brewery, a rustic brewery/taproom featuring a variety of unique microbrews.
Berlin offers something for everyone. History buffs will enjoy learning about the town's rich history. Founded in 1790, Berlin boasts 47 individual structures that are listed on the National Register of Historic Places. Nature lovers and sports enthusiasts can hike on one of the nearby nature trails; go kayaking or canoeing; bird watching; or play a round or two of golf at one of the area courses. Beach lovers can enjoy Assateague National Seashore (which is famous for its wild horses) or Ocean City (which boasts a 2.5-mile long boardwalk), both just a short drive from Berlin.
Berlin is about a 2.5-hour drive from Washington, DC. Its small-town charm, broad appeal, and proximity to nearby attractions make Berlin, Maryland, a must-visit destination.
Contributed by Amy of A Traveling Broad
12. Ellicottville, New York, USA
When you think of Western New York, especially if you grew up anywhere within a few hours' drive of the US border, your mental image is not likely that of a charming ski resort village with bustling yet family-friendly après ski options. But Ellicottville, NY is that and so much more. The main strip is a picture-perfect classic "Main St., USA," with casual and welcoming dining options and cute boutiques, and you're a mere five-minute drive from fantastic skiing and snowboarding at Holiday Valley.
In non-snowy months, Ellicottville makes great use of the area's other attributes; outdoor adventures that don't require abundant snow, marathons, music festivals, and food and wine festivals that highlight the region's booming craft beer and wine industries.
We loved Ellicottville's warm and cheerful atmosphere, and look forward to returning to play and relax.
Contributed by Corinne of Have Baby Will Travel
13. Gibara, Cuba
As far as Cuba goes, Gibara is completely off the beaten track, which was why I loved it so much. Gibara is a small sleepy fishing village about an hour's drive from Holguin. Once devastated by Hurricane Ike the beautiful coastal town is making its comeback with the recent opening of two boutique hotels that are already starting to attract European and Canadian tourists.
The historic village dates to 1817 and is made up of old Spanish-inspired architecture that surround local town squares. The squares have become WiFi hotspots where locals and tourists go with their internet cards to get online. Of course, like most towns and cities in Cuba, you will see its classic cars, horse-drawn taxi vehicles, and more of the Cuban charm you've seen in pictures.
Things to see: The Gibara Lookout where you will get a lovely view of the bay, the art gallery of artist Cosme Proenza and the headquarters of the famous Gibara Low Budget Film Festival. Gibara appears to have been a movie town in its day and many locals in cinema hope to see it come back. Be sure to take a Catamaran tour of the bay and catch a glimpse of the village from the sea.
Contributed by Sharon of Dream Travel Magazine
14. Tortuguero, Costa Rica
Tortuguero is a small, isolated town found along the shores of the Caribbean Ocean in Costa Rica.   It is inaccessible by road.  It is most commonly reached by boat through freshwater canals from the town of Moin or through domestic flights.
Tortuguero only has a handful of homes, hotels, restaurants, and shops.  Many of them are quaint and authentic, offering comfortable accommodation, excellent food, and beautiful handicrafts.  However, the main reason to visit Tortuguero is Tortuguero National Park, an enormous rainforest filled with Spider and Howler monkeys, dozens of species of birds, snakes, spiders, turtles, caimans, fish and iguanas.  All wildlife viewing is done on boats or kayaks along the extensive network of creeks and lagoons that intersperse the vegetation.
I took my four children aged 16, 12, 10 and 9 to Tortuguero and we all fell in love with the area.  The adventure began as soon as we stepped on the speed boat which transferred us from "civilisation" through the rainforest to our hotel over 1 1/2 hours away.  In the morning, a naturalist took us by kayak on guided tours of the Rainforest and canals.  In the afternoon, we played in the pool while iguanas crept by and monkeys kept watch.  We also spent an afternoon teaching English to and playing soccer with the local school children.
Tortuguero feels untouched and undiscovered, which is a rare find these days.  I encourage you to visit before the world discovers it.
Contributed by Nicole of Go Far Grow Close
15. Colonia del Sacramento, Uruguay
Colonia del Sacramento in Uruguay is a small town on the border of Uruguay and Argentina. It is one of the oldest towns in Uruguay. Its historical quarter (barrio historico) is a UNESCO World Heritage site, and it is famous for its colonial architecture. The town was founded in 1680 and later it was conquered by the Spanish. For this reason, tourists can notice the characteristics of the Portuguese and the Spanish streets and architecture.
Most tourists arrive by ferry from Buenos Aires. It is only 50 minutes away by boat. The historic district is within walking distance from the ferry station. The cobblestone streets were built in the 17th century by the Portuguese. The Basilica of the Holy Sacrament in the centre of the old town was also built by the Portuguese in the 17th century. There is a Portuguese Museum built by the Portuguese and a Municipal Museum constructed by the Spanish. The town is right on the coast. Tourists can have a lovely walk along the beach after discovering the old town.
Contributed by Barbara of Jet-Settera
16. Pijao, Colombia
Pijao, Colombia, Latin America's first CittaSlow (Slow City), is a characteristic, old town, dating from the 17th/18th century characterised by traditional, colourful houses made of 'barreque': open-cut bamboo that is filled up with a mixture of adobe. The town lies in Colombia's coffee-growing region and on Saturday all farmers drive downtown to sell their coffee beans. Of each seller, they test a fixed amount of beans, after which they establish the price. With business taken care of, the farmers go to one of the many cafés for coffee or beer, and to play billiards while kids gather at the outdoor café to play chess.
Pijao is a place you expect to visit for an afternoon but where you find yourself lingering for a couple of days, drinking lots of good, strong coffee while you talk with locals. You learn about the town's struggles in the past that teach you why until recently Pijao wasn't even mentioned on Colombian maps.
When you stroll the streets and the surrounding green areas, you take in the day, the moment. And you understand perfectly why Pijao was awarded the status of CittaSlow, which locally they translate as 'Town of Tranquillity'.
How to get there: Take a bus from the town of Armenia, in Colombia's Coffee Triangle.
Contributed by Karin-Marijke of Notes on Slow Travel
17. Salento, Colombia
Colombia is a place frequented by many tourists, but my favourite town had to be Salento in the north. This quaint little village is nestled on a hillside at a high enough altitude to give it a cool climate.
Its myriad craft shops and plentiful little eateries make it a destination in itself, but what really made Salento stand out, was the coffee plantation tour we did there. It was amazingly well run and a lot of fun. Salento is also just a stone's throw from an impressive butterfly garden that is shaped (you guessed it) like a butterfly when viewed from above.
The whole town has a chilled vibe and hosts plenty of accommodation options which is great if, like me, your trips (like the one I'm currently on) have a fairly limited budget.
The other great thing about Salento is its easy access to lots of lovely walks in nature. Up here is real coffee-growing country, and views from the hills are unbeatable no matter how much you pay for a room. The same goes for the incredibly diverse food scene. None of the places are massive, and none of them are swish. What you do get is fabulous variety and wonderful value for money.
Salento is about 7-9 hours journey from Bogota. A bus from Bogota to Pereira will take about 6-8 hours and costs a mere 50,000 COP. The final bus from Pereira to Salento takes about 1 hour and will set you back a tiny 6,000 COP. Salento is WELL worth a visit!
Contributed by Dante of Dante Harker.com
18. Guadalupe, Colombia
Guadalupe is my favourite town in Colombia, and well off the Gringo Trail!  It is still unknown to foreigners, although Colombians are now catching on, so visit during the week to appreciate Guadalupe in all its peaceful glory.  The town itself is tiny, the church is gorgeous, and the square offers shady spots to while the time away – just like a hundred other colonial towns in Colombia.  However, what makes Guadalupe special is the wealth of nature around the town.  Take a dip in natural Jacuzzis formed in the shallow red rock river, scramble down waterfalls, dive into deep pools, and hike in the beautiful countryside;  all miles away from all the other tourists!  The town's only guide, José, can arrange a tour, or give you directions to get there.  He can even sort out hiring a horse if you prefer to take to the countryside on horseback.  Pure paradise!
Getting to Guadalupe isn't easy, but worth the effort.  Take a 5-6 hour bus journey from Bogota to Oiba, then a bumpy hour-long jeep ride to Guadalupe, if you manage to catch the sporadic jeep at the right time!
Contributed by Claire of Tales of a Backpacker
19. Jardin, Colombia
Colombia is not a new tourist destination, but although the visitor numbers continue to increase, there are still plenty of places that remain very much off the popular backpacker trail. Recommended to us by countless locals and even a travelling priest, Jardin was one such town.
This small pueblo in Antioquia, just a couple of hours from Medellin is the real Colombia. A place where everybody wears a cowboy hat, old men upon horseback ride up to a bar for a shot of Aguardiente or just sit in the beautiful town plaza sipping hot and sweet tinto watching the world go by.
Although there are hikes to be done in the surrounding area, the real joy of spending time in Jardin is simply experiencing it as a local would. Wander the beautiful town square and the rustic streets with colourful houses or visit on the weekend and, for a few pesos, you can even borrow a horse for a fancy trot around the plaza.
This place will almost certainly make it into the Lonely Planet one day, but until then, enjoy it at its best!
Contributed by Emily and Andrew of Along Dusty Roads
20. Puerto Lopez, Ecuador
Puerto Lopez is your standard South American small town; Just a quiet fishing village with long stretching beaches. There is a central marketplace and bus stop where almost everyone does most of their shopping. The buildings are pastel colours or just straight brick. There is little to distinguish this small town from any other small town in South America despite the fact it is perfectly located to be a base for Parque Nacional Machalilla. There is also whale watching during the right season. But what impressed me about this sleepy fishing village was the fishermen themselves and the birds. It was a display unlike any other I had ever seen, and I grew up on the coast.
As the fishermen come in with their catch, they have to make a short run from the boats, up the beach and to the trucks. The entire time they are doing this, they are bombarded by large birds stealing their catch while they scramble to get to the truck. The sheer amount of birds and this display left me in awe.
Getting To Puerto Lopez is easy and the same way you get almost anywhere in South America; you go to the local bus station and say bus to Puerto Lopez, and you should arrive without too many problems.
The town is worth a visit, even if just for an afternoon to see this display, or if you are looking for somewhere quiet to relax between bigger more touristic destinations.
Contributed by Dane of Holiday From Where
We hope you've enjoyed learning about these small towns around the world. If you've enjoyed these articles, let us know in the comments below. If there's enough interest, we'll consider compiling more articles on great towns and villages in the future.
All photos are copyright the contributors unless otherwise noted.
Latest posts by Alison Cornford-Matheson
(see all)
Read more from this series...
20 Best Small Towns in The Americas You've Never Heard of (But Should)