THIS POST MAY CONTAIN COMPENSATED LINKS. FIND MORE INFO IN MY
DISCLAIMER
.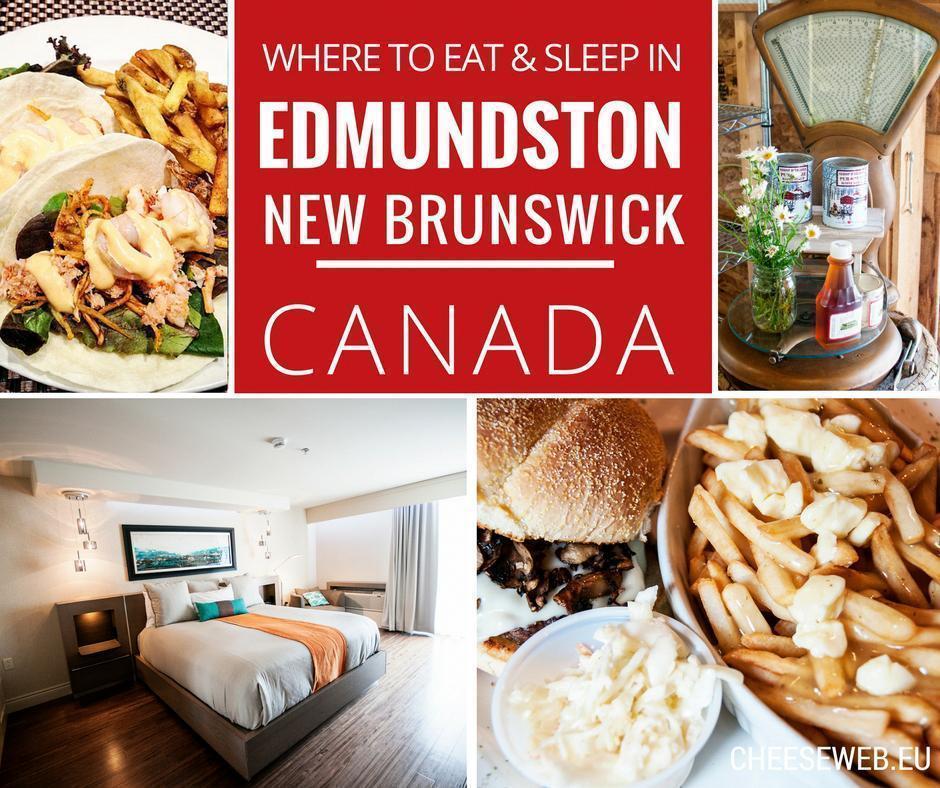 We share our top restaurants, hotels, and foodie destinations in Edmundston and Madawaska County, New Brunswick, Canada.
Over the past weeks, we've shared what to do in Edmundston and what to eat while you're there. Today we're sharing where you should eat. And, because you'll also need a comfortable place to sleep, we'll give you the low-down on the two hotels we stayed in in Edmundston as well.
Restaurants in Edmundston
Edmundston isn't a huge city, and its downtown is downright tiny. But that doesn't mean your options are limited when it comes to great restaurants. In our three days in Madawaska County, we tried as many as we could, but there are still plenty more on our 'visit next time' list. Below are five restaurants and cafés in Edmundston we loved.
Café Flora
One of our top destinations in Edmundston is the stunning New Brunswick Botanical Garden, not only for the gardens themselves but also for the food. Café Flora, the botanical garden's restaurant, features fresh local produce and a menu with international flair. It is listed by Acadie Gourmet (which we told you about last week) and the terrace offers a beautiful view of the garden's waterfall. Read all about what we ate at Café Flora. The only downside to this delicious restaurant is it is only open May through August for lunch and brunch, with a special opening during the fall Grande Grouille festival.
Chantal's Steakhouse
We happened upon Chantal's Steakhouse a bit by chance and what a lucky find it was. It was a Wednesday evening, and several of the restaurant recommendations on our list were either closed or fully booked, so we turned to TripAdvisor for help. Chantal's had great reviews and looked like our kind of place – and it was. The dining room was relatively small and intimate (by Canadian standards), and the lighting was dimmed and atmospheric – not great for food photos but excellent for ambience. Our server was friendly and switched easily between French and English as she moved from table to table.
Our meal began with an amuse bouche of mushroom soup, absolutely packed with mushroom flavour. This was followed by bread still warm from the oven, whipped butter, and small salads. Because it's more difficult to find in New Brunswick, I pounced on the rack of local lamb when I spotted it on the menu. It was perfectly cooked. Andrew opted for steak and was pleased with his choice. The restaurant offered elements of European dining we had been missing, but with all the warmth and friendliness we expect in Eastern Canada. One final selling point for Chantal's – you can bring your own wine.
Frank's Bar & Grill
We had several opportunities to visit Frank's Bar & Grill during our stay in Edmundston as it is located at the Sheraton Hotel, where we spent a night (see below for our review) and was also a stop on our foodie tour of the downtown. I have to admit; we were a bit shocked when we were presented a slice of bread with butter at Frank's for our foodie tour meal. But what may sound on paper like a prison meal was elevated to new heights at Frank's. The bread was freshly baked using local Petit Sault beer, and the butter was hand whipped maple butter. Heaven.
This little taste fuelled our appetites for something more. We returned to Frank's on our own for a light supper and shared hot wings and seafood tacos. The hot wings (my guilty pleasure) were crispy and not overly greasy with a spicy sauce on the side. The seafood tacos, a seasonal special, were filled with shrimp and lobster with a lightly spiced mayo.
The menu is extensive and features all the expected hotel restaurant dishes as well as a good dash of creativity. There are daily specials, local beer on tap, and live music events. This is not your typical hotel restaurant.
Café Lotus Bleu
I believe when a city has a great vegetarian restaurant it's the sign of a well-developed food scene. Edmundston has Café Lotus Bleu which is a good sign indeed. To my absolute dismay, we didn't have the opportunity to try any of the food at Lotus Bleu, although I'm assured by those in the know, and the rave reviews on TripAdvisor it's excellent. We did, however, stop by to peruse the tea offerings on our foodie tour, and I had a peak around the café.
Lotus Bleu is quirky and colourful and cosy in a way a good café should be with a bit of an old-school hippy vibe I love. There are more than 50 organic teas and coffees to choose from, and the menu is vegetarian and vegan-friendly with gluten-free options as well. It is exactly the kind of place I'd love to spend a day catching up on writing (taking advantage of the free wifi) with a nice cup of tea and a few healthy snack breaks. We'll definitely return.
Sucré Salé
When I first set foot in Sucré Salé, I knew I had found my personal heaven. Part gourmet boutique and part café, this little gem in downtown Edmundston is a treasure trove for foodies. The shop features high-end cooking gadgets and gourmet ingredients like oils, chocolates, maple products, and a wall of organic spices that had Andrew clutching my wallet for dear life. We stopped at Sucré Salé on our food tour for one of my other weaknesses – cheese. Sometimes New Brunswick can feel like a bit of a cheese desert (although there are some great local cheeses if you know where to look) but Sucré Salé is a cheese lover's oasis with more than 30 varieties available.
As the name indicates, the café's menu offers both sweet and savoury treats. On the savoury side, you'll find sandwiches, salads, and a daily soup, all freshly made in-house from local ingredients; Sucré Salé is Acadie Gourmet listed. On the sweet side are crepes, crepes, and more crepes (there are savoury ones too) and their signature Mega Ploye for a truly regional taste. (Read all about Madawaska's Ploye!) This boutique and café is an absolute must-visit for foodies!
Where to Eat in Madawaska
La Faim de Match
During our foodie stay in Edmundston, we also spent a good deal of time outside the city limits in Madawaska County, visiting farms and producers. As roaming through fields works up an appetite, we needed a hearty meal. As much as we enjoy fine-dining, we also like to find those 'locals only' sort of places. La Faim de Match, a restaurant, bar, and hotel in Saint-François de Madawaska, is exactly that. We visited on a weekday at lunch hour, and the place was so packed we ended up eating on a pool table with a gang of locals. The menu is heavy, and hearty and the service is friendly and casual. Based on local advice, we both opted for poutine. I went traditional as a side for my burger, and Andrew opted for the ginormous meat lover's poutine. The burger was excellent, and the poutine was everything it should be. It was a great little local spot with cheap and delicious food.
Maurifils Farms
We've mentioned Maurifils Farms in a number of our Edmundston articles already. They offered us our first taste of ploye and tourtiere, and we had a great time chatting with owners Régis and Patricia Ouellet about their family farm and Edmundston's unique food heritage. Patricia is a certified chef whose baked goods are legendary throughout the region. Régis can be found in the field on his ancient tractor growing a wide variety of organic produce and tending to their livestock.
Their Acadie Gourmet listed farm market is a one-stop-shop for wonderful local produce from maple products to meat, to fresh fruit and veggies, to Patricia's amazing baked creations. The Ouellets are clearly passionate about their region and the amazing foods produced in Madawaska County, and it's definitely worth the short drive from Edmundston to visit their farm.
Hotels in Edmundston
Edmundston offers a variety of accommodations from cosy B&Bs to luxury hotels. You can even camp at De La République Provincial Park; something that's on our bucket list for our next Edmundston trip. We only had a short stay in the city, but we opted to test two of the city's top hotels.
Best Western Plus Edmundston
We spent our first night in Edmundston at the Best Western Plus. I must admit, I was a bit sceptical as we've had a hit or miss relationship with the chain over the years. Luckily, the Best Western in Edmundston was a hit. Perched on a hilltop overlooking the city, the hotel offers ample parking and has easy access to the highway making it a great option for folks passing through. It's also a good choice for visiting the Botanical Garden or Mont Farlagne.
Our room was modern and very spacious with an excellent bathroom. The big comfortable bed provided a good night's sleep, and despite the location, it was very quiet. The Best Western doesn't have a restaurant but is close to a few fast food options or a short drive to the downtown. We drove to Chantal's (above) which was convenient by car. There is a modern bar with a great terrace at the Best Western where Andrew enjoyed a Petit Sault, and I had a cocktail.
While it's a good choice for business travellers, families will also enjoy the Best Western's large pool and waterslide which was packed with kids when we visited.
Four Points by Sheraton Edmundston
On our second night, we stayed at the Four Points by Sheraton in downtown Edmundston. This hotel is an excellent choice if you want to be in the thick of it all, as its central location makes walking to the downtown highlights easy. It's home to Frank's Bar & Grill, mentioned above, so you don't even have to go outside to have a great meal or enjoy a local craft beer and some live music in the bar.
Like the Best Western, our room at the Sheraton was modern and spacious, although the bathroom was slightly more dated. The hotel features a small pool and fitness centre and free wifi and offers free parking across the street from the hotel.
Both hotels are great options in Edmundston, and we had a good stay at both. The Best Western Plus is slightly more geared to families while the Sheraton is a perfect option for foodies.
Wherever you choose to stay in Edmundston, New Brunswick, you'll find plenty to do, great food to eat, and warm, welcoming people to greet you. We loved our time in Edmundston and can't wait to return and discover more.
We'd like to extend our thanks to Tourisme Edmundston for hosting us in the area and allowing us to share this hidden gem with you. As always, all opinions are ours alone.
Latest posts by Alison Cornford-Matheson
(see all)