THIS POST MAY CONTAIN COMPENSATED LINKS. FIND MORE INFO IN MY
DISCLAIMER
.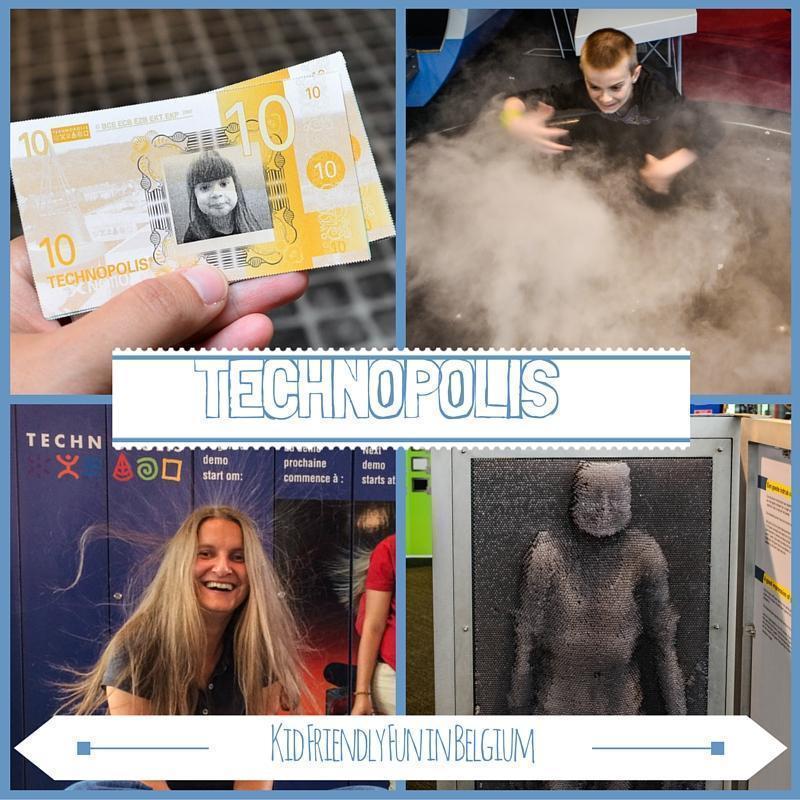 Today, Adriana takes us inside Technopolis, the Flemish Science Centre near Mechelen, where kids can learn, experiment, and have plenty of fun.
I am the first to admit, when it comes to interesting weekend activities, I usually consider adult venues and destinations, where kids are also welcome, rather than going to children's activities. I generally have a big aversion of kids' venues, as they are often grossly overpriced and you get very little in return in terms of fun. When I remember Disney Paris, all that comes to mind are the two-hour lines for a thirty-five second ride and the atrocious food.
So why then did I take my kids to Technopolis?
Well, for one, it was my son's birthday wish, which one cannot refuse, and second, he had visited Technopolis earlier in the year with a school trip and could not stop talking about it afterward. So at this point, I was very curious too.
We chose the Saturday Belgium played in the World Cup, as I was sure it would not be crowded. I was right; the place was rather empty. Once inside, I was overwhelmed at the sheer size of Technopolis, which houses over 350 exhibits and experiments.
You pay for the ticket (57 euro for a family of four with two kids – even three year olds pay) and each family-member gets a magnetized bracelet that activates different exhibits around the center. Then you are free to go and test whatever you want, while having plenty of assistants ready to help you with whatever you need.
I loved that absolutely all of the experiments had instructions written in three languages: French, Dutch and English. It would have been a complete waste of time for us (and the other English-speakers) if English had not been an option.
There are so many great experiments to choose from and, because it was not busy, we tried almost all of them. The first thing you see as you enter is the airplane simulator, which the kids are drawn to like flies. And why not? You get to land, or in our case crash, a "real" airplane.
Have you ever wanted to touch clouds? You can do that at Technopolis. How about sleeping on a bed of nails? Of course, why not? Want to experience a low gravity 'moon walk'? You can do that too.
My favorite was the static electricity experiment, which a Technopolis employee presents three times a day. It's something I have wanted to do for a long time but never got the chance. (I think I've always let my hair grow just in case I got the opportunity!) If you tell them you are an English speaker, they will even present the experiment in English too.
Technopolis also has water experiments. Creating water tornadoes and throwing balls inside the tornado was a big hit with our kids. Other family favorites were the driving simulator and the entire high-tech Roman exhibit, where we learned about ancient technology.
Since my daughter is almost four, there was not a lot for her to do, until we reached the area dedicated to younger children. This is a large area divided in different activities; like huge Lego blocks ready to build into whatever the kids can imagine.
What I loved the most, and had the most learning value, in my opinion, was the area where kids can participate in adult activities. There's a grocery store with extremely realistic groceries; a garage where kids get to change tires on a model car and can pretend to drive a real one; a bank where kids can print money with their own photo on it (My daughter loved having personalized money); and finally a pizzeria equipped with everything needed for hours of fun. Parents have benches where they can supervise their kids without interfering with the fun.
As far as food goes, the café is clean, which is important to me. There is a modest selection of main courses, a nice soup of the day, and a lovely salad bar. I always go gaga for how pretty the salad looks and want to eat it all. I enjoyed the soup, which was big enough to share, the salad, and the frites, but the chicken tenders were rather bland. All in all the food was far better than any food we've had at a children's venue, (light years away from the Disney food and even further from the American chuck-e-cheese type places who only seem to serve the ever present brown plate special.)
Conclusion? When you have children, at some point, you will have to go to places dedicated to kids. The hours of fun and learning we experienced at Technopolis will always put it at the top of my kid-fun list while in Belgium.
NOTE: Technopolis is open every day of the year, from 9.30am-5pm, except January 1st, December 25th and the first full workweek in September. There is ample parking available in front of and behind the building.
Technopolis
Technologielaan
2800 Mechelen