THIS POST MAY CONTAIN COMPENSATED LINKS. FIND MORE INFO IN MY
DISCLAIMER
.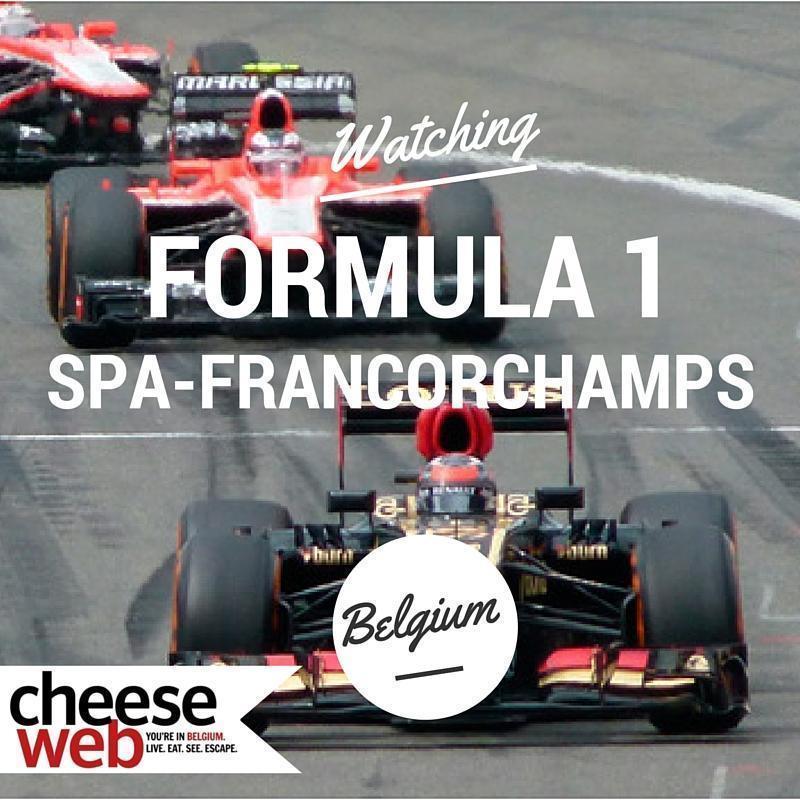 Our guest contributor, Bridget, takes us into the noise, circuit-side at the Formula 1 Belgian Grand Prix at Spa-Francorchamps and offers her tips for watching this spectacular event.
Sports car enthusiasts from all over the world flock to Belgium every year for the world's most popular and exciting motorsport racing event – the Formula 1 Grand Prix.
The Formula 1 (F1) is the crème de la crème of auto racing.  The cars are an extraordinary feat of engineering and aerodynamics, and can achieve speeds over 300 km/h.   F1 drivers are as young as age 21, and require enormous athleticism and stamina – racing at high speeds for 1-2 hours and changing gears between 2500 and 4000 times per race.  Pit Crews can change tires and re-fuel the car in just 3 seconds.
Formula 1 races take place on weekends between March – November in different cities all over the world.  One of most beloved circuits for F1 drivers and fans alike is the Spa-Francorchamps circuit in Belgium – the longest track that winds around turns and up and down slopes for 7 kilometers – all amidst the gorgeous deep green scenery of the Belgian Ardennes.
One of the reasons Spa-Francorchamps is adored by F1 aficionados is our infamous and unpredictable Belgian weather.  Sometimes it can rain on one part of the track and be sunny on another, which adds a surprise element of technical difficulty and excitement.
The Formula 1 Belgian Grand Prix is easily accessible for Brussels expats and makes a great day or weekend out.  Held every year in August or September, the race is in the village of Francorchamps just outside of Spa, only a 1.5 hour drive from Brussels.
I attended my first Formula 1 event in Spa-Francorchamps last year, because my boyfriend Olivier is a huge fan and had long dreamed of seeing the famous Belgian race.  Being a first-timer, I studied in advance in order to appreciate what I was about to see on race day – I didn't want to watch cars zoom by without understanding everything.  I picked my driver to cheer on (Mark Webber for his final year), learned about the qualifying race, which determines starting pole position, watched YouTube videos dissecting the pit stop, and read about the strategy of how drivers pass each other.
The race weekend itself was fantastic.  I had never seen a car drive so fast – the astonishing speed and NOISE were impressive and very exciting.  Beyond that, the event was the combination of everything I love.  There was an international atmosphere with drivers and fans from all over the world.  The race is outdoors in one of the most beautiful areas of Belgium.  And there is an overall vibe that manages to be both geeky and cool.  On top of that, we found a cozy guest house in the Ardennes and made a weekend of it.
See Formula 1 Live in Belgium
The main race is always on Sunday afternoon, but the whole event begins on Friday as drivers test-drive the route, and then compete in a qualifying race on Saturday to determine their starting position.  We enjoyed arriving on Saturday and having the opportunity to walk around the circuit, which is a beautiful walk that acquainted us with the course ahead of Sunday's race.
There are many fantastic viewing options available – either via pre-assigned seats or lawn seats.  Check out the circuit map in advance.  You can choose to sit near a curve, at the straight pass where drivers reach their highest speeds, or at the start and finish line for a high price.  Unlike many sports events, it is impossible to see the entire circuit, so there are large screens everywhere so spectators can follow the entire race.
Book tickets in advance. Like most famous sport events, tickets aren't cheap and start at 120€. Despite the steep price, they always sell out for what many fans consider a once-in-a-lifetime opportunity.
Top tips for visiting Spa-Francorchamps
For first-timers, spend time learning about the F1 in advance so you'll have more appreciation for the sport and engineering on race day.  The Formula 1 website is a great starting point, as well as YouTube and Ron Howard's 2013 film Rush.
Dress for Belgium – wear layers and bring sunglasses and an umbrella.  Ear plugs are recommended.  We purchased extra-large ear mufflers for 10 euros just outside the circuit. Wear good walking shoes and expect to park at least 1 kilometer away (or purchase reserved parking online).
Food and drinks are permitted inside the circuit.  Pack a picnic, as a cheaper and tastier option to the snacks sold at the event.
Arrive early, especially if you opt for lawn seats.  You can easily make a day trip for Sunday's main race, but the whole weekend pass is only a few euros more than Sunday alone, so it is worth paying a little extra to see Friday's and Saturday's events.  Otherwise you can enjoy a weekend in the Ardennes with many great activities like hiking the Hautes Fagnes National Park or relaxing in Spa – book your hotel well in advance.