THIS POST MAY CONTAIN COMPENSATED LINKS. FIND MORE INFO IN MY
DISCLAIMER
.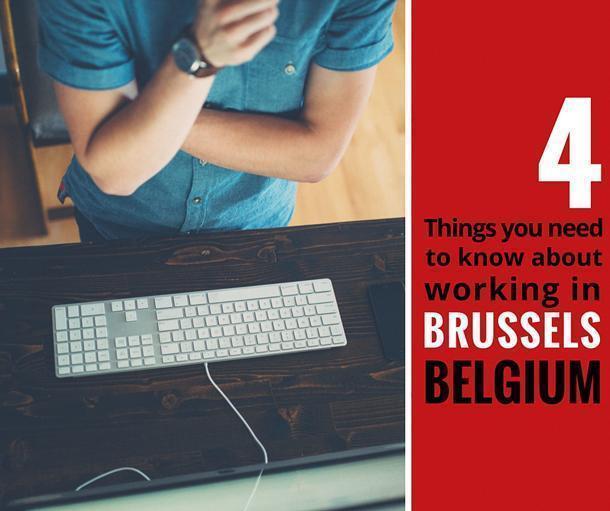 I've worked in Belgium for eight years. In that time, I've discovered a number of rules about working here, which may be confusing or different from elsewhere. Today I'll share information about four things you should know about working in Belgium.
Work Permits
First, you will require a work permit. This is not required if you are a citizen of one of the European Union states, the states of the European Economic Area, or Switzerland. Under EU laws, EU citizens are entitled to live and work in any of the EU states. In the last 7 years, this was expanded to include the countries of the European Economic Area (EU + Iceland, Norway, and Liechtenstein) and Switzerland.
Your employer must apply for your work permit at their local commune. The employer must justify your position is one that cannot be filled by a local person.
There are three types of work permit:
Permit C – 1 year validity, unlimited employers, non-renewable – typically issued to foreign nationals with a limited residency status (e.g. refugee, students, etc).
Permit B – 1 year validity, single employer, renewable – this is the most common work permit. If you change employers, your new employer must apply again for a work permit. You are entitled to renew this permit every year. After 4 renewals and 5 years of residency in Belgium, you will be entitled to a Permit A.
Permit A – Unlimited duration, unlimited employers – allows you to work for any employer (in Belgium) for any duration.
Once your employer receives the work permit, you must take it, with 3 passport sized photos and any other supporting documents, to your commune's foreign resident desk, where they will issue you a residence permit and an ID card.
If you are living in Brussels, plan to get to the commune early, as the foreign resident desks are often open only until noon and there is usually a line up well before they open.
13.92 Months of Salary
Did you know there are 13.92 months in a year? In Belgium, employees' salaries are divided into 13.92 months, to provide extra income, at the times of year when expenses are highest.
In the spring, usually May, you will get an extra 92% of a month's salary, as vacation pay (pécule de vacances) and at the end of the year, you will get an extra month's bonus (the 13th month). It's not free money; companies simply divide your gross yearly salary by 13.92 to get your monthly salary.
Salaries are paid monthly, which is less of an issue for other Europeans, but likely a surprise for North Americans.  This means you will need to budget your spending across the entire month.
Salaries are also indexed, meaning they are automatically increased each year, based on  the health index (consumer price index minus tobacco, fuel, diesel and alcohol). Practically, this means each year, the government measures the cost of a particular "basket" of necessities (bread, fruit, vegetables, etc). The change in the cost of this basket from year to year is the basis for your salary adjustment.
Indexation keeps salaries in line with the cost of living. However, it is a topic of some debate, as it forces company costs up, even while their business may be in decline. Belgium is one of the remaining few countries with such a law.
Paid Time Off
Compared to North America, Belgians enjoy more vacation time during a year. This provides a better work/life balance.
An employee working 5 days a week for a year is entitled to 20 days of annual leave, plus 10 public holidays.
If any of the public holidays fall on a weekend, that day becomes a floating holiday, which the employee is entitled to use like any vacation day.
Your annual leave is provided all at once at the start of the year, based on the number of months worked in the previous year. Therefore if you join a company on January 1st, you will need to work for a whole year, before you get your vacation days.
Annual leave does not carry over if you don't use it.
Employees are also entitled to sick leave. There is no maximum number of days, but each incidence must be accompanied by a doctor's sick note.
The way annual leave is earned has been subject to criticism. Waiting for up to a year to take a holiday does not promote a healthy work-life balance and is counter to some EU laws. In fact, in 2012 the EU challenged these rules resulting in Belgium introducing "subsidiary holiday" rules. This latest change allows a new employee to take a holiday within their first year, using the money from their 13th month bonus. It is still not quite what the EU directives mandate, but it is a step forward.
Parental Leave
We've heard from many expat parents Belgium is one of the best places to have children, but it is not the most generous, in terms of parental leave. Working women are entitled to leave work, up to 6 weeks before delivery, and stay home for a total of 15 weeks. Fathers are entitled to 10 days off, which must be taken within the first month after the baby arrives, but they are only paid 82% of their salary.
Of course, this kind of information changes over time, as new rules take effect. To get more information, here are some useful links:
Belgium.be – Official information about living in Belgium and available services. Information is provided in English, French, Dutch, and German.
VDAB – Flemish Public Employment Service; has information about employment. A useful document is the Working and Living in Belgium guide.
NewInTown.be – Contains basic information about living in Belgium. Information is provided in French and Dutch.
WorkPermit.com  – A site dedicated to providing immigration information for a large number of countries, including Belgium. Site is in English.
Have you encountered some unusual employment laws in Belgium? Share them with us in the comments.
Looking for more resources for living in Belgium? Check out our Expat Resources page.