THIS POST MAY CONTAIN COMPENSATED LINKS. FIND MORE INFO IN MY
DISCLAIMER
.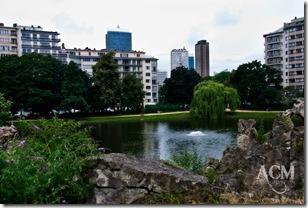 One of the things that really surprised me when I started to explore Brussels was how many beautiful green spaces exist in the city. In typical Belgian fashion, English information about many of these parks is scarce, so I thought I would start a series of my favourite green spaces here on CheeseWeb.
Right around the corner from our loft, is one of the prettiest parks in Brussels – Square Ambiorix. This is actually a series of small green spaces that are linked. It includes: Square Marie-Louise, Palmerston Avenue, Square Ambiorix and Square Marguerite.
Marie-Louise square surrounds a large pond with a huge fountain in the middle. The trail around the pond is shaded by enormous old trees, many of them droopy willows that offer shady nooks around the park. The pond is a paradise for ducks and other waterfowl. It can be surprising, but not uncommon, to see ducks flying around this area of the city. This park seems to be a haven for old men who can often be seen whiling away the hours chatting on one of the many benches.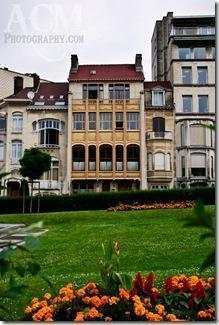 Palmerston Avenue is a wide boulevard bordered by beautiful houses in the Art Nouveau style. Many of them are now used as embassies. One of the top sights is the Hotel Van Eetvelde, designed by Victor Horta, located at No. 4. In the middle of the Avenue is a well-tended lawn with flower beds, surrounded by hedges. There is also a small water feature.
Avenue Palmerston leads into the largest of the green spaces, Square Ambiorix. This square is a haven for the locals on a sunny day. Children flock to the playground, students read on the grass and elderly folks catch up on the weekly gossip on the shaded benches. There are always many dogs walking their owners by the old shade trees and many well-tended flower beds. At the top of the park sits another small water feature with a fountain.
The final section of the green space is Square Marguerite, which is a haven for the sports lover. Here you will find basketball hoops, soccer pitches and a small area for skate boarders. This narrow stretch of park seems to be busy rain or shine. Its shady trees keep the sun off of the players and spectators alike.
View Larger Map
Stay tuned for more green spaces of Brussels in future blog posts. If you haven't already done so, you can subscribe to this blog to read in your favourite news reader.
Latest posts by Alison Cornford-Matheson
(see all)