We'd love to stay in touch!
There is always a lot going on here at CheeseWeb, so we've adopted a number of ways to keep you up-to-date with what is happening.
First, subscribe to our free bi-weekly travel inspiration newsletter. You'll get our top slow travel tips, helpful advice, exclusive contests, and inspiration for living the good life, on or off the road. We'll also send you our beautiful guide to CheeseWeb's Top 7 Slow Travel Destinations in France, absolutely free.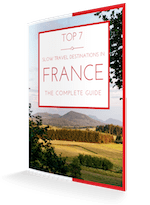 This beautiful guide tells you where you should go to get off the beaten path in France. We share 7 destinations and tell you
Why you should go
What to do when you get there
Where to stay
& What to eat
Your email address will never be shared and you can unsubscribe at the touch of a button.
You can also like us on Facebook. We use Facebook to share information from other sources, such as blogs, tourism sites, and more. This is information which could be time sensitive or we just think you'll like! We love it when you share your discoveries with us too!
We also tweet! Follow @CheeseWeb_eu on Twitter. Here we also share information from other sources, but only 140 characters at a time! Useful for those of you on the go. You are also welcome to follow our personal accounts on Twitter.
We love great visuals, so of course, Pinterest is a great source of inspiration. We have created boards for every country in Europe, our favourite hotels, UNESCO sites around the world, and much more.
Visit CheeseWeb.eu – Expat Life in Brussels, Belgium's profile on Pinterest.
If you want to see what we're up to day-to-day, you'll also find us on Instagram. (Just don't go there on an empty stomach!)
We also do our best to share videos of our experiences. Follow us on YouTube to be notified when we upload new videos.
Thanks in advance for joining us! We look forward to interacting with you and sharing our slow travel discoveries!
Get started now by checking out our list of most popular articles.
Thanks for joining us. Enjoy!
Alison & Andrew