THIS POST MAY CONTAIN COMPENSATED LINKS. FIND MORE INFO IN MY
DISCLAIMER
.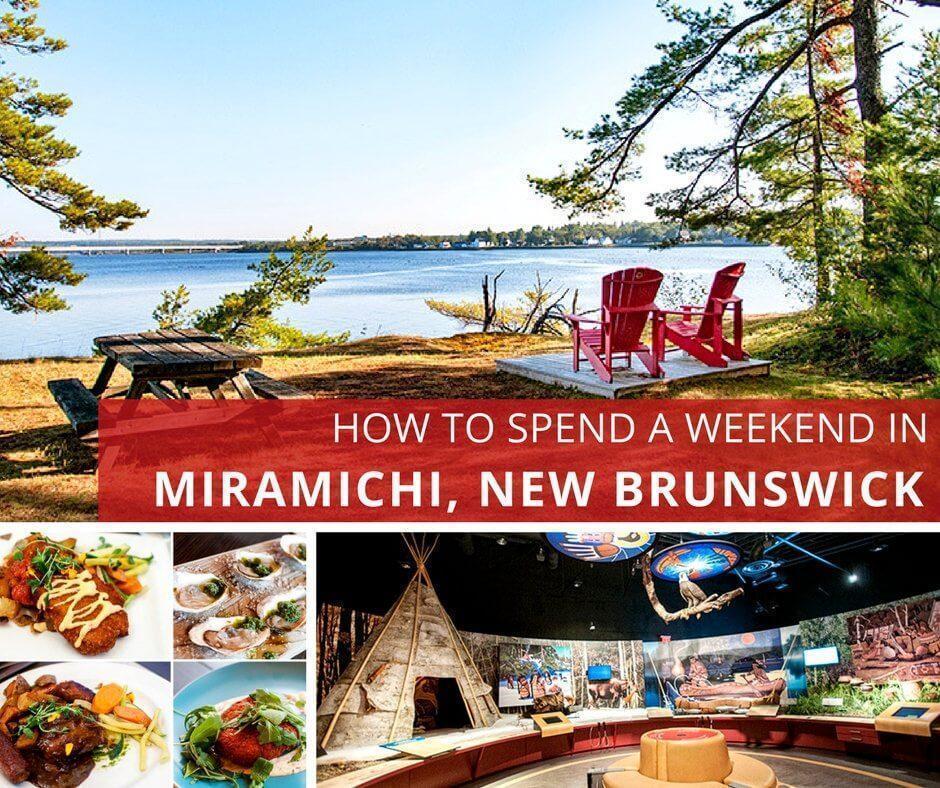 Miramichi is the largest city on New Brunswick's Acadian Coast, but it's not a typical stop on the tourist trail. This oversight is a pity because Miramichi is a hub for multicultural history and a gateway to outdoor adventure.
Miramichi makes a perfect weekend getaway destination or a stopping point on a larger road-trip along New Brunswick's Acadian Coast. Below, we share where to stay in Miramichi, the best places to eat, and all the best things to do in Miramichi, NB on a fabulous weekend escape.
Where is Miramichi?

Miramichi City sits on New Brunswick's eastern coast at the mouth of the Miramichi River, where it meets Miramichi Bay on the Northumberland Straight feeding into the Gulf of St. Lawrence. The city is just north of Kouchibougauc National Park, and south of Bathurst, the Acadian Peninsula, and Miscou Island.
Miramichi City is a somewhat recent creation, owing to the 1995 amalgamation of the towns of Newcastle and Chatham on opposite sides of the Miramichi River, as well as a number of smaller communities including Douglastown, Loggieville, and Nelson.
Miramichi is 174km from New Brunswick's capital city, Fredericton, via Route 8, the Miramichi River Route scenic drive. From Moncton, Miramichi is 146km on Route 11 along the Acadian Coast.
Hotels in Miramichi NB
[Note: some hotel links are affiliates meaning we earn a small commission on bookings at no extra charge to you.]
Rodd Hotel Miramichi
During our trip to Miramichi, we stayed at the Rodd Hotel. Situated right on the river, the Rodd is one of the top Miramichi hotels; and indeed one of the top hotels in New Brunswick. Known for its excellent fine-dining Restaurant 1809, the Rodd's menu highlights some of New Brunswick's best local ingredients, including seafood delicacies like lobster and oysters, as well as lamb and pork from the region. The rooms are spacious, luxurious and offer stunning views of the Miramichi River. The Rodd also provides an indoor pool, Jacuzzi, and fitness centre and makes an excellent romantic getaway destination. Check current rates here.
Other Miramichi Accommodations
Although we didn't stay in them ourselves (yet), two B&B's in Miramichi rate extremely well on Booking.com (our preferred hotel reservation website).
The Regent Street B&B
This small and friendly B&B near the centre of Newcastle offers cosy and affordable accommodations with a hearty breakfast. Rooms include cable TV and wifi, and the property is only 1km away from historic Beaubears Island (See things to do in Miramichi below.) Check current rates here.
King George B&B
This landmark 1918 property is a favourite for romantic getaways and foodies. In addition to fabulous breakfasts and packed lunches, the King George is the home of What's Cookin' Miramichi, a seasonal cooking school. Friendly hosts and a beautiful setting make this pet-friendly B&B a winner with guests. Check current rates here.
Metepenagiag Lodge
For a stunning, rustic escape to nature, outside the bustle of the city, head to Metepenagiag Lodge in the Red Bank First Nations community, just 20 minutes from Miramichi City. This stunning log lodge has vaulted ceilings and a local stone fireplace, overlooking the Miramichi River. We had the opportunity to tour this gorgeous property next to the Metepenagiag Heritage Park (see things to do below), and we can't wait to return and book a stay. This full-service outdoor adventure lodge offers wildlife viewing, Mi'kmaq history and cultural programs, and world-class salmon fly-fishing on the Miramichi River.
Things to do in Miramichi, NB
Beaubears Island
Since we've been back in New Brunswick, one of our goals has been to visit all of the province's National Historic Sites. In Miramichi, we had the opportunity to visit two historic sites on one small island. Beaubears Island is home to both the Beaubears Island Shipbuilding National Historic Site of Canada and Boishébert National Historic Site of Canada. Both sites are administered by Parks Canada in partnership with the Friends of Beaubears Island. You can learn about both at the excellent interpretive centre on the mainland before taking the short boat ride to the island to immerse yourself in New Brunswick's historic past.
The Beaubears Island Shipbuilding site comprises the eastern end of the island. It marks the location of the first shipyard, founded by James Fraser and James Thom in 1790. In the early to mid-1800s, this was the most important commercial site in New Brunswick and sparked a golden age for Miramichi wooden shipbuilding.
Boishébert National Historic Site makes up the rest of Beaubears island and marks an even earlier history. The island was first inhabited by the Mi`kmaq First Nation who welcomed French traders to the area in the mid-1600s. During the 7 Years War, Beaubears Island became a refuge for Acadians expelled from Prince Edward Island, Nova Scotia, and elsewhere in New Brunswick by the British. Charles Deschamps de Boishébert et de Raffetot led the resistance and helped the Acadians evade capture.
There are multiple ways to discover the Beaubears Historic Sites. You can explore the island's network of trails on a self-guided walk. Pick up a free map from the interpretive centre, take a picnic, and spot eagles and other wildlife on the wooded shores.
In the summer months, costumed interpreters tell the stories of Beaubears as you explore the island on a guided tour. You can also discover the island by water in a ten-passenger Voyager Canoe. Allow at least half a day to truly immerse yourself in this fascinating slice of New Brunswick's history.
Metepenagiag Heritage Park
If I had to pick one favourite discovery since we've been back in New Brunswick, it's a tough call. But, owing to my passion for lesser-known sites, fascinating history and diverse cultures, Metepenagiag Heritage Park on the Red Bank First Nation is a clear winner and one that deserves to be much more widely known. This state-of-the-art facility on the Miramichi River is part museum, part cultural and community centre, and part archaeological research lab.
Staffed by passionate community members and researchers, Metepenagiag's Museum tells the story of the Mi'kmaq First Nation's people who have inhabited this site for more than 3000 years. The interactive museum shares the culture, history, and archaeological findings of the nearby Augustine Mound and Oxbow National Historic Site. Metepenagiag is called 'the village of 30 centuries' and is the most significant prehistoric village ever found in the Maritimes. This site deserves world-wide recognition and the history and culture found here has a richness to rival any global historic site.
In addition to exploring Metepenagiag's museum, you can discover the park's walking trails on your own or with a guide from the First Nation's community. Learn about a variety of topics including Mi'kmaq culture and oral history, edible and medicinal plants, and hear traditional campfire stories. Extend your stay in the community at the Metepenagiag Outdoor Adventure Lodge (see where to stay above) and enjoy world-class salmon fishing on the Miramichi River.
Canada's Irish Capital
In addition to Acadian and Mi'kmaq culture, Miramichi bills itself as 'Canada's Irish Capital' and is home to one of the largest Irish festivals in the Maritimes. Miramichi is one of the most Irish cities in Canada owing to a wave of immigration from the ports of Cork and Belfast in the early 1800s, before the Irish Potato Famine. The annual Miramichi Irish Festival spans a weekend each July and includes a parade, concerts, and plenty of food and drink.
Gateway to Acadian Coast
Despite being a primarily English-speaking city, it's location in the middle of the Acadian Coastal Drive makes Miramichi a great stopping-point or base for further discovery of New Brunswick's Acadian Coast. Miramichi is just 30-minutes from the breath-taking white sand beaches of Kouchibouguac National Park and an hour from the Dune de Bouctouche to the south. Head an hour north to reach Bathurst or follow the coast to Caraquet and Miscou Island. (We'll be writing about all of these destinations in the coming weeks.)
World-Class Watersports and Salmon Fishing on the Miramichi River
In addition to its proximity to beautiful saltwater beaches, Miramichi is a hub for watersports on the Miramichi River. We've mentioned the excellent salmon fishing above, but this pristine river is also a haven for water sports enthusiasts of all kinds. Try your hand at canoeing or kayaking from short trips to multi-day adventures. For a more relaxed pace, grab a few local beers and set off on a Miramichi River tubing adventure. While there are a variety of river outfitters available, we highly recommend the passionate folks at Storeytown Cottages & River Adventures in Doaktown. (Read the full review of our stay and canoe trip on the Miramichi.)
Where to Eat in Miramichi
1809 Restaurant & Bar
As mentioned above in the Miramichi Hotels section, we thoroughly enjoyed our meal at the Rodd's 1809 Restaurant & Bar. We began our meal with local lobster and crab cakes and Maison Beau-Soleil Oysters. Our main courses were Springbock Farm's lamb duo of sausages and T-bone and Pork Schnitzel. The delicious local delicacies, paired with the stunning view of the sunset over the river, make this restaurant a clear winner for fine-dining in Miramichi.
Bistro 140
Based on a tip from our passionate guide at Beaubears Island, we headed to Bistro 140 in the centre of Newcastle for a delicious lunch. This local favourite gets high marks for its cosy atmosphere, friendly staff, and local dishes. Daily specials include a soup, sandwich, quiche, and pasta option, as well as regular vegetarian and gluten-free menu items. We enjoyed local crab cakes, fish tacos, and a Ruben sandwich at very reasonable prices.
Napan Bakery
Another option on our wish list, which was sadly closed when we visited, is the Napan Bakery, a German-style bakery just steps from the Rodd Resort. Locals and tourists alike flock here for fresh-baked bread, cookies, cakes, and pastries. Enjoy your sweet treats onsite with a cup of coffee or tea, or take away enough for a picnic along your route.
If you haven't yet discovered the city or Miramichi or the surrounding region, what are you waiting for? This fascinating area offers a diverse range of cultures, a virtually unbroken history, and a stunning landscape filled with warm and welcoming people. Make Miramichi a stop on your next New Brunswick adventure or escape to the region for a fun-filled getaway. We guarantee you'll find something to discover.
We'd like to thank New Brunswick Tourism for inviting us to discover Miramichi and for their support while we were in the area. As always, all opinions remain our own.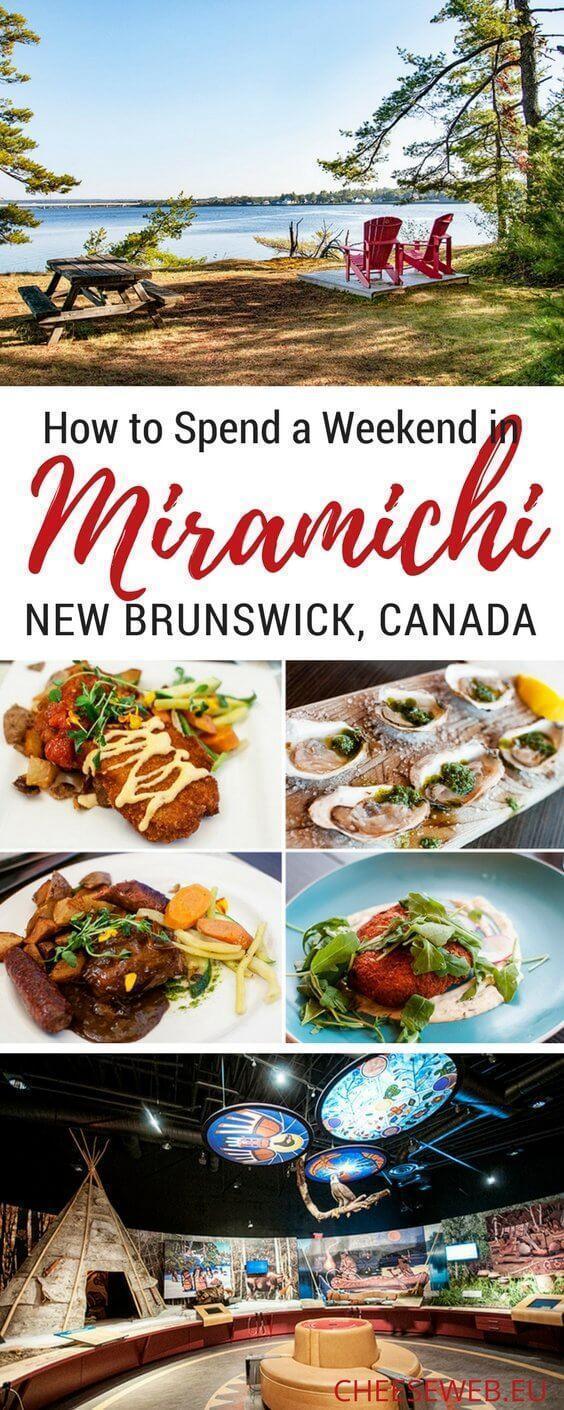 Latest posts by Alison Cornford-Matheson
(see all)