THIS POST MAY CONTAIN COMPENSATED LINKS. FIND MORE INFO IN MY
DISCLAIMER
.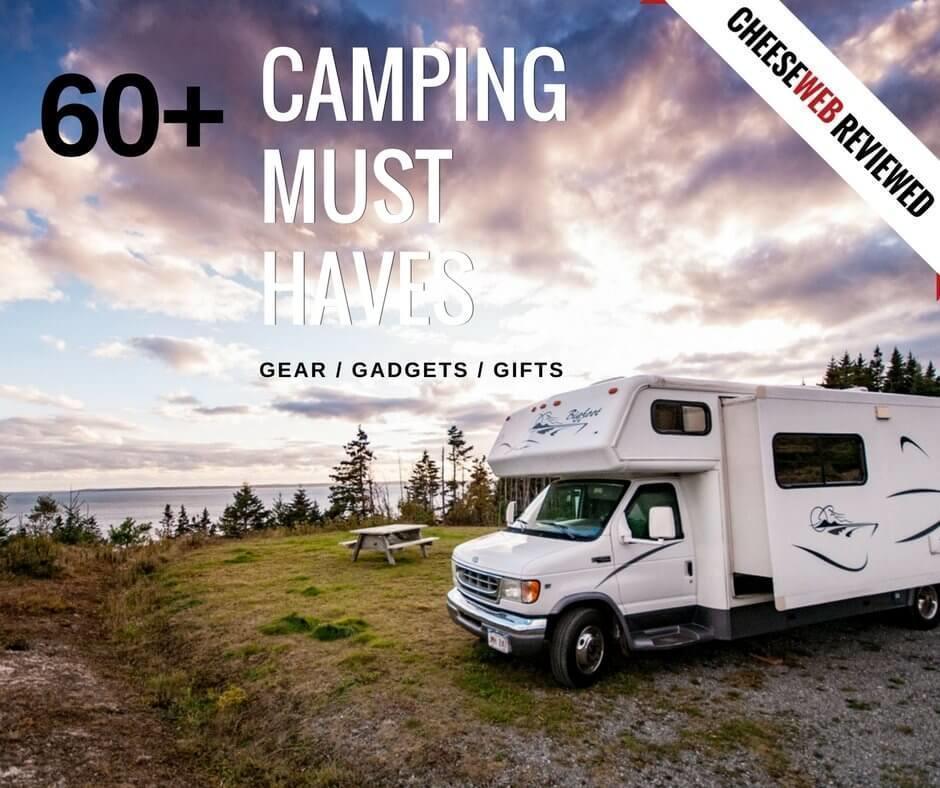 We share our must have camping gear for RV living. This is a roundup of our favourite fun camping accessories, RV gadgets, gifts, and cool RV accessories.
When you live full-time in an RV (or any small space for that matter) every inch is critical. You need to carefully consider how much value an item is going to provide before you bring it into your small space. For the most part, the things in our motorhome, Yeti, are things we can't live without. In this article, I'm sharing our RV must haves – from the items we use every day to get our jobs done to our camping must haves and even a few cool RV gadgets.
You don't have to live in a home on wheels to find these things useful. If you live in any small space (many of these items we used in our apartment in Brussels) or if you RV or go camping on holiday, these must have camping gadgets may just make your day-to-day life easier (and more compact) too.
[Note: Many of the links in this post are affiliate links, meaning if you make a purchase we get a small commission at no extra cost to you which helps support this website. Just like everything on CheeseWeb, we never endorse anything we wouldn't use ourselves.]
[Friends in Belgium, be sure to also check out Our Top Belgian Gift Ideas From Amazon and don't miss our 60+ Best Gifts for the Travelers and Foodies on your gift list!]
Our Top 5 Best Camping Accessories
After we compiled this list, we decided there were a few items that surpassed categorisation. Interestingly, these are also all items we used before we started living in a motorhome. For that reason, wherever you live, consider adding the following five products to your life.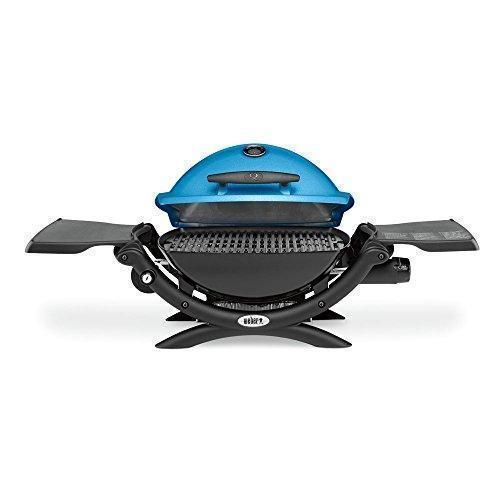 We bought our first Webber BBQ (an earlier version of this model) not long after we moved to Belgium. It lived on our terrace in Brussels, and we used it year round. When we moved into our European motorhome, we decided it took up a bit more space then we could spare, so it went to live with our friends in Spain. When we began planning for our RV trip in Quebec Maritime, we knew a quality BBQ was one of our must have camping items. We don't use our Webber grill every single day – but close to it. It fits perfectly in our underneath storage compartment, is light, easy to clean, and super durable. In short, it's a camping must have. In addition, you may also want to consider adding the following: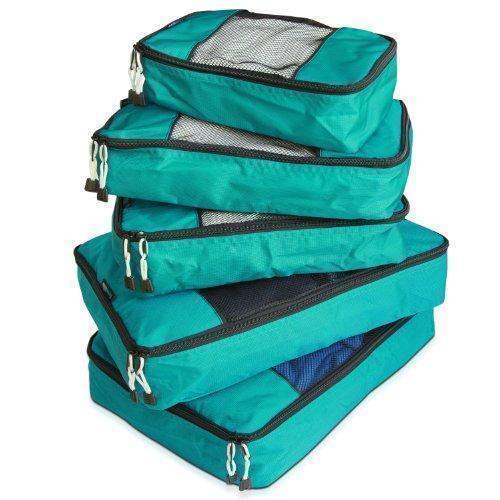 I've been singing the praises of packing cubes for years. I never travel without them. They've always kept my clothing organised, compact, and relatively wrinkle free in my suitcase. Now that we live in an RV, I use my packing cubes every day. They have become some of the best RV camping accessories we own in terms of saving space. I keep my clothes sorted into small (undies and socks), medium (shirts and skirts), and large (pants and bulky items like sweaters) cubes. But we also use packing cubes for non-clothing items. I use the long narrow packing cubes for jewellery and keeping my power cords neat and tidy. Also consider: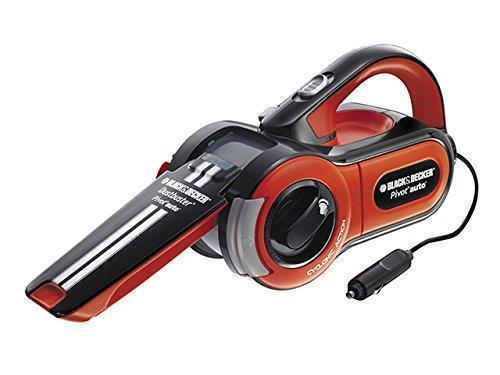 We bought this little vacuum when we first moved into Amelia (our European motorhome). I wish I had known about these vacuums, which plug into your vehicle cigarette lighter, sooner as it would have been super handy in our car too. We're still using it years later in Yeti, and it's going strong. I am on the lookout for a new vacuum that's a little more up to the task of the cat hair our furry felines produce. But this vacuum has been super for everyday use, and I would call it one of our top camper must haves!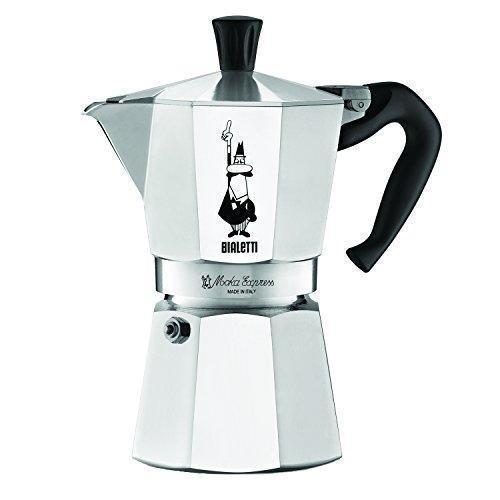 I NEED a good, strong cup of coffee in the morning and North American drip coffee just doesn't cut it after years of living in Europe. My solution – the Moka Pot and I literally use it every. Single. Day. (Often more than once.) You can use one of these compact coffee pots anywhere, so they make excellent RV camping supplies. You can use it on gas or electric stoves, or even on the BBQ or open fire. If you don't like your coffee as strong as I do, you can use Andrew's trick of diluting it with some hot water. My one word of advice – don't cheap out and buy a different brand (I bought a different one when we first moved back to Canada, and it leaked everywhere). Bialetti invented the Moka Pot and still make the best version. It's well worth paying a bit extra. You may also want to consider:
Books are essential for both Andrew and I. But carrying our entire library around in the motorhome isn't exactly practical – unless our library is digital. While we do still read paperbacks, we would be sunk without our kindle. We keep everything from cookbooks to travel guides to reference books in Kindle format, and it only takes up a tiny space in our RV. We have a first generation Kindle but if we were to buy a new one, it would be the Kindle Voyage. Even if you don't read for pleasure, a Kindle is one of those must have camper accessories you'll find yourself reaching for again and again.
Best RV Kitchen Accessories
I love to cook, so investing in our RV kitchen was important to me. Most of my favourite RV kitchen supplies can be used anywhere, and in fact, I owned many of them before we left our apartment in Brussels. If you're stocking any small kitchen, consider the following as essentials.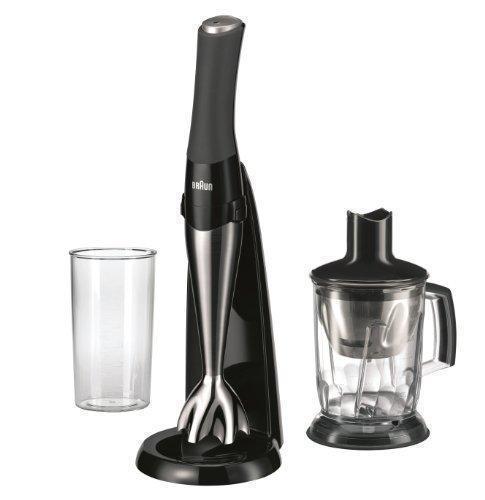 If I could only have one appliance in my kitchen (and these days I almost do) it would be my hand blender. Unfortunately, the exact model I own is no longer available but the one pictured above is very similar. This single, small device serves as my blender, food processor, chopper, and mixer, and I use it all the time. It is battery operated, and the charging station doesn't take up much space. When we're connected to electricity (or have plenty of solar power), I charge it up. When it is in use, there are no power cords in my way, and a single charge lasts for days of use. Hand mixers certainly aren't specifically RV kitchen appliances. I owned this in our Brussels flat and used it regularly. It was perfect for our tiny kitchen. So, if you're looking for essential motorhome kitchen accessories, this is one to add to your list.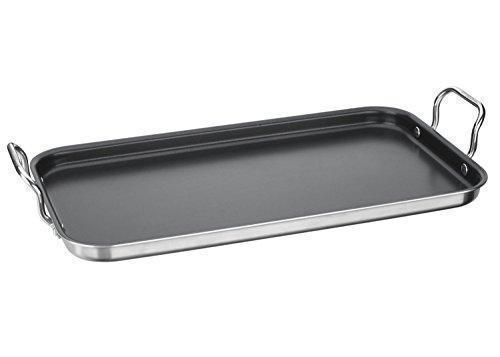 My mom gave us our griddle pan, and I'm surprised how often we use it. It sits over two burners and provides lots of cooking area. Andrew is the breakfast master and uses it for bacon and eggs, pancakes, and grilled vegetables. It's easy to clean and, because it's flat, takes up little space. Add this to your camping must haves list if you love a good breakfast fry-up. If you prefer cast iron and don't mind the added weight, this double-sided griddle would also be a great option.
When your house moves every few days, you don't want to own a lot of breakable stuff. Trust me. Melamine dishes have come a long way and the colours and styles available these days are impressive. People are often surprised when they pick up our dishes and realise they aren't actually pottery. From environmental and health standpoints I'm not a huge fan of plastics and Melamine is NOT microwave safe. Living in a motorhome I've had to make peace with plastic to a certain extent. We've invested in non-breakable glasses and dishes to make our RV life easier… and less breaky. The dishes above come is a huge selection of styles and colours. Also, check out the following unbreakable glasses. You'll be shocked how real they look.
I know a spice grinder isn't going to be on everyone's RV camping gear list. However, I love making curries from scratch, and a durable spice grinder is essential. I've owned three different ones over the past ten years, and my current is my favourite. The removable, metal bowl is durable and easy to clean, and I've used it on everything from cinnamon sticks to coffee.
Some kitchen accessories take up a lot of space. The dish drying rack is one. We were doing without a drying rack altogether for this very reason – until I stumbled on the Umbra sink rack. This may be one of the best RV gadgets I've found, that's not even designed specifically for RVs. It lives in our sink and takes up no space at all.
From here on, the kitchen items aren't specifically stuff for camping, but you'll want to be sure you have them in your RV. If you're winos like us, a good corkscrew is essential wherever you are. We love this one. It's compact, durable, and does the job.
I have been singing the praises of my Global Chef knife for years. Other than a bread knife, it's the only knife I use (and needing only one knife is excellent for saving space in your RV kitchen).
Because you'll probably still want a bread knife, this is a good one.
The key to living with one perfect chef knife, is keeping it sharp. This is the sharpener I've been using for 10+ years. It's easy to use, doesn't take up much space, and keeps my knife razor sharp. Add this to your camping kitchen accessories list.
This was one of those things I didn't know I needed until I owned one. There are countless cutting boards on the market, but not many of them are non-slip. When your space is limited, the last thing you need is to be fighting with your cutting board. Add a set of quality non-slip cutting boards to your RV cooking accessories list asap.
Best Collapsible Products
There is a whole category of products I didn't know existed until we started living in an RV. Many of our must have RV camping accessories are collapsible or foldable in some way. These unique camping accessories are available in a wide variety of items from everyday kitchen gadgets to things you wouldn't expect to be space saving.
Our very first collapsible item was our kettle. made by Outwell. Unfortunately, it is only available in the UK. We bought it when we moved into Amelia and it is still one of our must have RV gadgets (it almost made our top 5 list). We use this durable little kettle every morning, and it still works like a charm and packs away efficiently. It works on any stove or even over an open fire making it one of our must have camping supplies for ANY style of camping. If you are ordering from a non-UK Amazon, there are a few different collapsible kettles to choose from:
The second collapsible item we purchased was our bucket, and again it became one of our RV camping essentials. It tucks away behind our toilet, and we use it for everything from mopping the floors to fetching water to put out our campfire.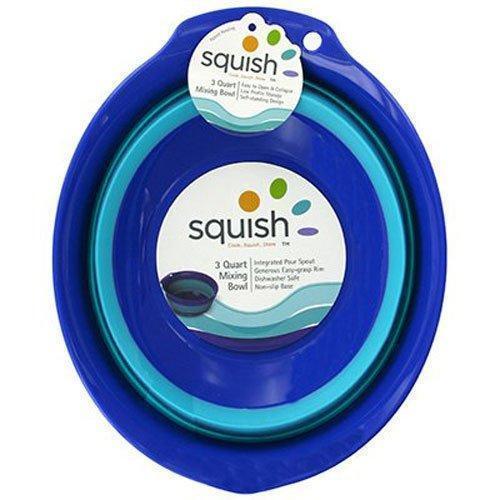 Now we're on a collapsible product mission. We use our collapsible mixing bowl for everything from serving snacks to tossing salads.
If you enjoy making pasta a collapsible strainer can quickly become one of your favourite RV and camper supplies.
If you use a dishpan for washing up, there's a collapsible version as well.
We first bought two of these collapsible jugs to carry water in. We never expected we'd end up using them to carry wine we purchased directly from a winery we stayed at as part of the France Passion program. Whatever you decide to carry in them, these jugs take virtually no room when empty but expand to store a lot of liquid making them versatile RV camping equipment.
If you travel with a pet (or pets), it's a good idea to have a pet carrier or crate on hand. Even if you don't usually crate your pet, you never know when you'll need to make an emergency trip to the vet. These collapsible pet carriers come in a variety of sizes, are lightweight, and fold flat for easy storage.
One of our favourite things about motorhome travel is we always have all of our stuff with us, without needing to pack and unpack. Unfortunately, sometimes we need to leave Yeti behind. For those situations, we still need to own suitcases. Suitcases, however, take up a lot of room – unless they are Biaggi suitcases. We have two of these little guys (thanks again to my mom). They fit comfortably into our storage but unfold to hold everything we need for a trip away. We own the 22-inch carry-on sized bags but there are a variety of options to consider. I'm adding the shopping tote to my wishlist right now!
One of Andrew's recent favourite additions to our camping accessories list is his foldable stepladder. He uses it for everything from bathing Yeti to climbing up to the roof to check on our solar panels.
This is one of those items you never hope to need – but when you do you're glad you have it. When your home is also your vehicle odds are you're eventually going to have a breakdown. Foldable traffic cones make you visible to other drivers without taking up a pile of storage space.
Best Camping Gear
Whether you have a camper van, travel trailer, or a motorhome like us, the following items are our top camping accessories for RV living full-time or part-time.
One of the things you need for a camper, motorhome, or trailer is the one thing we all wish we didn't have to deal with – the sewer hose. This is one area where you shouldn't skimp. A cheap hose will break – and nobody wants to deal with that. Trust us on this and buy the best one you can afford. This is the one we use, and it has proven to be very durable.
We love being able to be entirely off the grid and self-sufficient. Last year, before our Quebec Maritime adventure, Andrew invested a lot of money and sweat equity into installing a complete solar power system in Yeti. But you don't have to go this far to harness the power of the sun when camping. One of our top RV accessories is a small solar charging device you can use to power small devices like your phone.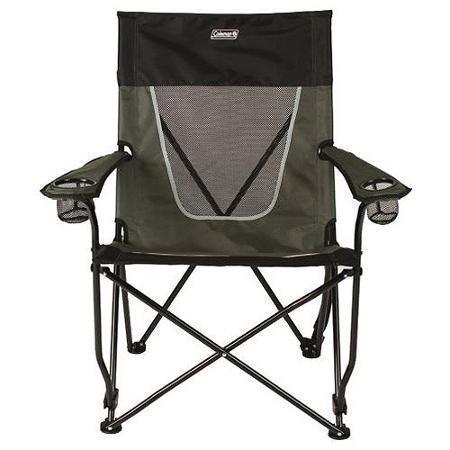 One of the best things about camping is spending time outdoors. To make your outdoor time as comfortable as possible, it's essential to invest in good camping chairs. We think a couple of these Coleman chairs should be on your RV camping supplies list.
Along with your comfy chairs, a small folding table for snacks and drinks is one of our camping must have gadgets.
We joking refer to Andrew's Maglite as his 'Mulder and Scully' flashlight (referring to the lights used on the X-Files that seemed brighter than the sun). This is the only flashlight you'll ever need. Added Bonus – they are so durable they double as a weapon.
For those times you need a light, and both of your hands free, headlamps are RV camping must haves.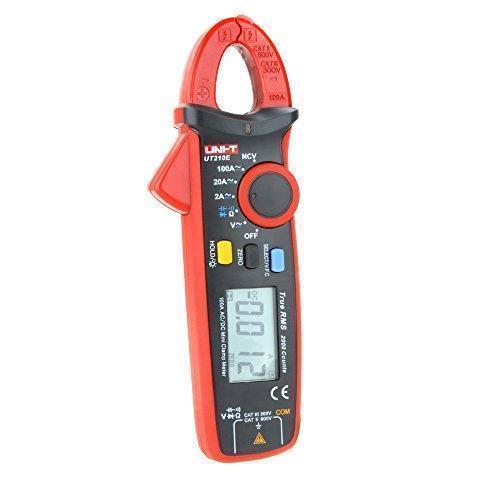 A lot is going on electrically both under the hood of your motorhome as well as inside your RV. It's essential to have a basic understanding of how that electricity works and having a voltmeter is key to making sure everything is as it should be.
What you need in your toolkit will depend on a lot of factors from how handy you are to what kind of RV you own. Even if you are a total beginner, you should have a basic toolbox in your RV.
Similarly, a basic first aid kit is one of the things you need for a camper, trailer, or motorhome. You can either make it yourself or buy a ready-made one like this.
Something we added recently to make off-season camping more comfortable is RV vent insulators. These help keep the chill out from around air-leak prone vents while keeping your heat inside where it belongs.
Best RV Storage Solutions
One thing RVers are always on the lookout for is good RV storage solutions. In addition to the packing cubes we mentioned in our top five, here are a few of our essential RV and camper accessories for storage.
There are certain food items we immediately transfer to storage containers: cereal, flour, sugar, rice, and lentils. It not only makes our storage more efficient by making these items stackable but it cuts down on messy accidental spills.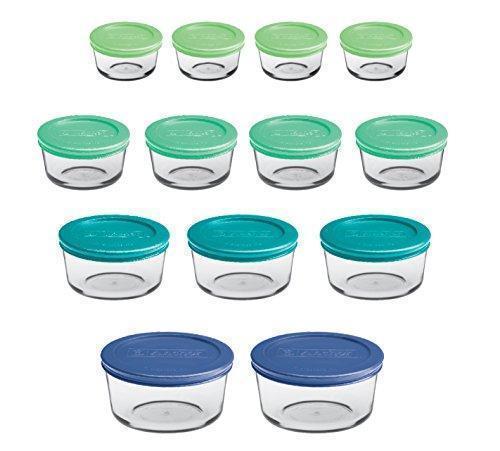 Because I cook frequently, we often have leftovers. To store them, we use reusable glass containers. We chose glass, rather than plastic because we can freeze, refrigerate, and also reheat all in the same container. We love these particular containers because they nest inside each other when not in use saving valuable space in our cupboards.
One of the cool RV ideas we saw online for saving space was using magazine racks to store items like plates upright instead of flat.
While packing cubes are great for storing everyday clothing; we use vacuum storage bags for flattening bulky items we don't use often. We put things like extra bedding, towels, and winter jackets inside, suck out the air with a small hand pump and pack them away until they are needed again.
Our Mobile Office Supplies
If you only use your RV for holiday travels, you probably don't need to worry about setting up a mobile office. However, if you regularly use your laptop on the road, you may want to consider adding some of the following items to your RV essentials list.
Even if (or maybe especially if) you only travel with a smartphone, you need to keep it charged up. We couldn't exist without our USB chargers and have at least one in each of our vehicles.
If you've ever tried working for extended periods in your RV you'll know that ergonomics is not a consideration. If like me, you suffer from any shoulder or neck pain, you'll want to make sure your laptop monitor is raised to just slightly below eye-level. This light, portable, folding laptop tray has been a life-saver for long days on the laptop.
When using the laptop table above, it's obviously not practical (or ergonomic) to type with my arms way up in the air. That's why I have a small Bluetooth keyboard that fits perfectly under the laptop tray. This is also great when I'm only travelling with my tablet. I can type much faster and more comfortably on the keyboard than on the table touchscreen. This is one of my favourite new RV gadgets I purchased this year.
Andrew is a stickler about making backups of everything from my thousands of photos to our personal documents. While we do have off-site cloud storage, it's also important we have plenty of storage at our fingertips as well. We both have a collection of small, durable, portable hard-drives to keep our important files at our fingertips.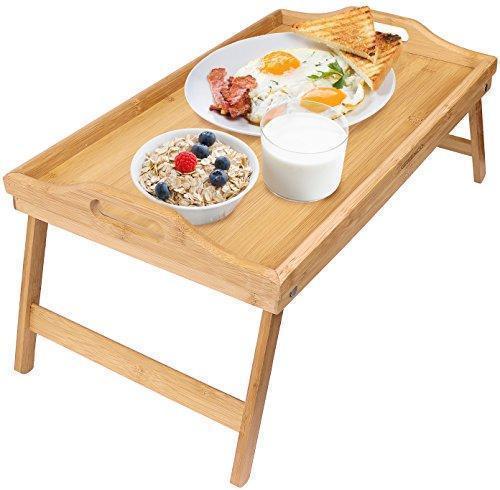 I wasn't sure exactly where to put our folding TV tray on this list, but it almost made our top 5 motorhome must haves list. I bought our little wooden tray on a whim, and we've ended up using it nearly every day. We don't own a TV and watch shows on Netflix on our laptops. We use the TV tray to hold the laptop in bed. We can also use it for its intended purpose if Andrew decides to make me breakfast in bed. (I'm still waiting on that one.)
RV Gadgets and Gizmos
The following RV camping gadgets aren't motorhome or travel trailer essentials (except the first three detectors), but they definitely make RV living easier.
Your RV should have come with proper CO, propane, and smoke detectors. However, unless your machine is brand new, you'll need to remember to check and replace them every five years. These three detectors are motorhome and travel trailer necessities and may save your life someday.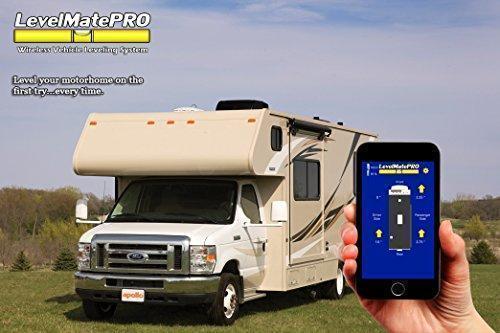 If there's one thing that can cause friction between RVing couples, it's trying to get the machine level. Leveling your RV correctly is critical for the functioning of slide-outs, your refrigerator, even your plumbing. Enter the Level Mate Pro. This little gadget gets screwed to the wall of your RV. You download the app and connect to the Level Mate via Bluetooth. The app show you exactly which wheel(s) you need to raise and by how much to achieve a perfectly level RV. It's genius.
When your home is on wheels one of your worst nightmares is a tire blowout. With so much weight riding on your tires they are under constant stress, not to mention changes in pressure caused by temperature changes and friction. A tire pressure monitoring system immediately alerts you to dangerously high or low tire pressure. Small sensors attach to each wheel and transmit to a monitor on your dash where you can observe the status of your tires while driving. This has given us much more peace-of-mind while driving Yeti, especially under extreme circumstances.
Speaking of heat and tires, if your RV is parked for any amount of time it's a good idea to keep the hot sun off your tires. Wheel covers prevent the sun from damaging your tires while you're stationary.
Another of our RV essential accessories is our temperature monitor. From inside our motorhome, we can check the temperature of up to four different locations in and around our RV. Andrew purchased this system initially to monitor the temperature inside the compartment containing our batteries and electrical 'command centre' for our solar power system. We've added additional monitors to show the temperature inside and outside the RV. It's a great way to keep an eye on things without setting foot outside.
To keep our RV running on solar power we wanted to make sure everything inside is as energy efficient as possible. One of the first things we did was replace all our lightbulbs with LEDs. This cut our power consumption significantly, and it was such a quick and easy fix.
It seems like an easy thing, but we searched for a long time to find a suitable way to store our toiletries in the bathroom. Suction cups were continually detaching from the wall, and the ensuing crash would scare us half to death. I had heard about command hooks but was sceptical they would actually hold in the bathroom. To date, it's been almost a year and our bathroom caddy has remained attached to the wall with no crashes. I'll be adding more command hooks to our future RV accessories must haves list!
Fun RV Accessories
While the vast majority of items in our RV are necessary or at the very least useful, you can't be all work and no play all the time. The following is a collection of RV fun stuff we own or would like to own. If you have an RVer on our Christmas list, the following are some fun gift ideas.
Growing up my parents had a USA sticker map in our motorhome, and it's how I learned the location of all of the states (It's one of my freakish super-powers). Andrew and I would like to add, at the very least, a North America sticker map to Yeti to chart our travels.
Because our travel has extended beyond our motorhome, my wish-list contains a scratch map of the world to document our travels together.
When we first saw these telescoping campfire forks we laughed. The very next campfire we had, we wished we picked up a set. Useful for sausages, marshmallows, or whatever other campfire roasted goodies you can think of.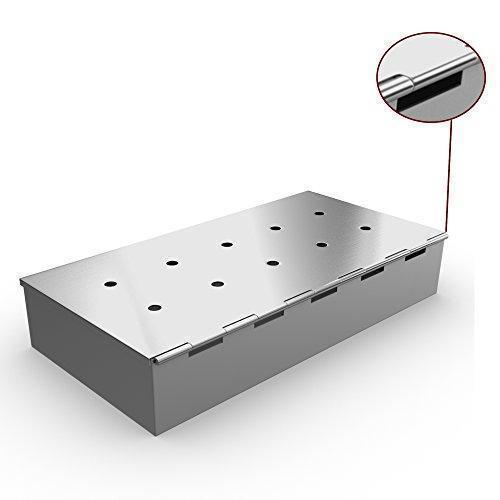 Another impulse buy, we use our little smoker box quite often inside our BBQ. It adds a bit of smoked flavour to meat, fish, or whatever else we happen to be grilling. Don't forget to order some different types of wood chips:
When we first brought Yeti home, I wanted to personalise her a bit, and fell in love with these LED solar string lights. They're powered by the sun, so they don't draw any of our precious power, and they add a splash of colour wherever we're parked.
A Few More Gift Ideas For RVers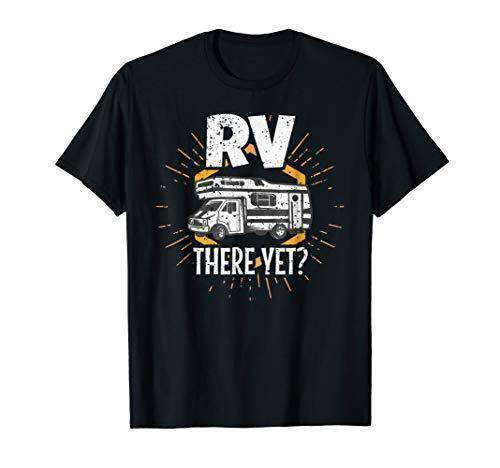 This list isn't exhaustive, and I'm sure we'll continue to add to it over time. Hopefully, though, you've discovered some new products to help increase the enjoyment you get from your RV. We'd love to know what cool camping accessories you can't live without. Tell us your travel trailer must haves and your unique RV accessories in the comments below.
Latest posts by Alison Cornford-Matheson
(see all)