THIS POST MAY CONTAIN COMPENSATED LINKS. FIND MORE INFO IN MY
DISCLAIMER
.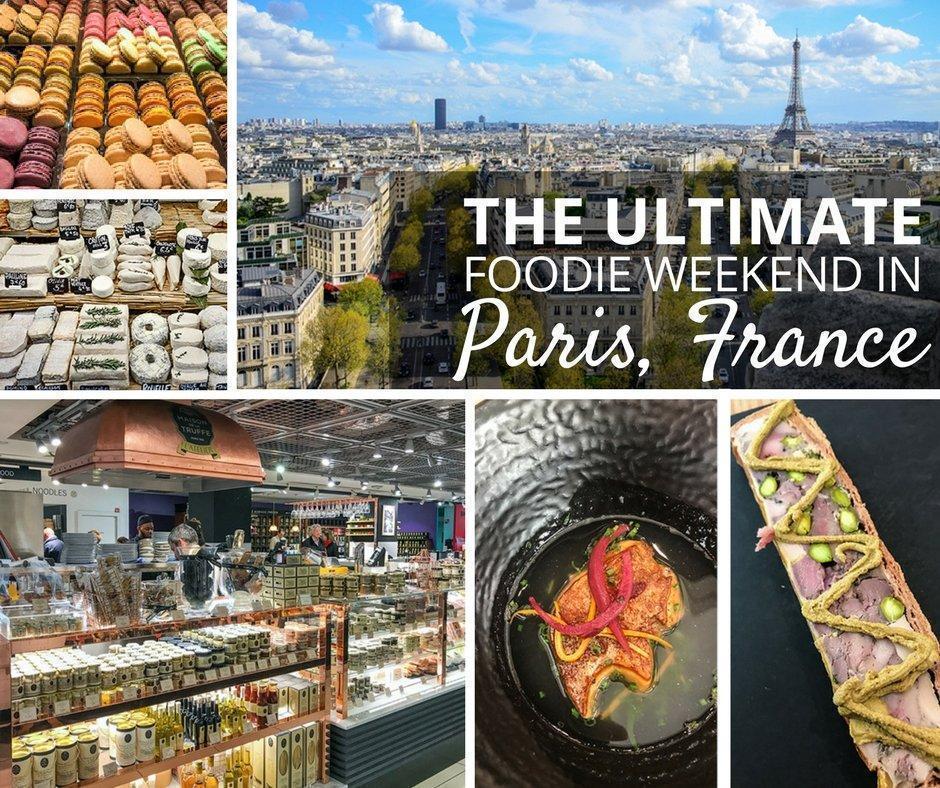 Adi shares how to maximise 48 hours of eating on the ultimate French foodie weekend in Paris, France. Check out her picks for the best restaurants in Paris as well as great food markets and plenty of French cuisine!

When you're planning a trip to Paris, you're more likely to put classics like the Eiffel Tower, the Louvre, and Notre-Dame Cathedral on your travel bucket list. However, after visiting Paris a few times already, my husband and I were more interested in experiencing a different aspect of Paris – the food.
French gastronomy was added to the world's intangible heritage list by UNESCO, and Paris is the perfect place to discover it!
With Michelin-starred fine-dining restaurants, numerous workshops to learn cooking tips from top chefs, and a buzzing street food scene with food trucks and markets, Paris is a food-lovers paradise, with something to suit all budgets and tastes.
Because we didn't travel with our kids, we saved enough money to let the Parisian food scene be our playground. We were able to indulge in a way we could not if our children were along. If you've ever travelled with kids, you'll know, most of the time; you choose a restaurant based on their palate, so everybody is satisfied.
For this trip, we took the bullet train, as it was the most affordable option. We booked three months in advance.
At the time, flying was expensive, and driving is just not an option due to the high prices of tolls, each way, and the nightmarish traffic of Paris. Besides, who doesn't want to sit, relax, and enjoy a glass of bubbly while travelling at 320km/h?
Because we took the train and our destination was Paris Est, I chose an apartment in the vicinity of the train station. [Use our link to save €35 on your first booking]
Accommodations in Paris come at a premium price, but I was lucky to find a perfectly located little apartment. It was small and clean and just right for our needs. I don't believe in splurging on lodging, as it is only used to rest your head on a pillow after a day of wandering.
Cleanliness and a low price are the only things I care about, so we can keep our cash for play.
If you prefer hotel stays to apartment rentals check out the current deal on Booking.com below. [We'll get a small commission if you book at no extra cost to you and you'll be helping support this website.]
Our apartment was walking distance to a few ethnic restaurants which always seemed full. As much as we wanted to try them, this trip was about discovering French cuisine.
I hope you've eaten as I'm about to share my most mouthwatering wisdom on where to experience French cuisine in Paris.
[TOP TIP:] If you need a little help knowing where to go for the best food in Paris, you can always book a food tour with a local guide.
1. Marché de Saint Quentin
Steps away from our apartment is the Marché of Saint Quentin, one of the city's oldest and most impressive market buildings.
The market is open daily and offers a wide variety of fresh, local produce as well as plenty of places to taste the vendors' wares. You'd have a display of fish and seafood and 2-3 tables for customers eager to try some. That is exactly what we did for breakfast every day.
We began the day in the most decadent way, at the Les Viviers de Noirmoutier, with plates of fresh king prawns, smoked salmon, crab claws, and gorgeous oysters. I cannot remember a time when we splurged like this.
The fishmonger was a genuinely kind lady who could not be more helpful and sweet. At her suggestion, we went to the bakery next door for bread. The smell of freshly made baguettes was overwhelming and impossible to resist.
If fish and seafood aren't for you, the market also offers Italian, Portuguese, Asian, Moroccan, and Lebanese booths, as well as fresh fruit and vegetables and gorgeous, local meats you can cook back at your rental apartment.
With a baguette and a belly full of fishy goodness, we would start our day and head for the next French culinary adventure.
2. Huitrerie Régis
Huitrerie Régis has the reputation of being Paris' best oyster bar. Hubby was hell-bent in paying them a visit.
The restaurant is tiny; ten tables that fill as soon as the restaurant opens. Because they do not take reservations, you'll need to arrive before opens, at 6.30pm. Our method was to hang out at the café across the street and stalk the opening time.
They opened ten minutes early, and we went in right away snagging the first table. By the time 6.30 came around, the restaurant was full with a waiting time of thirty minutes to one hour.
The menu is simple and mostly consists of oysters, but we did try the scallop plate as a starter. The oysters are priced based on size and quality. It was here we savoured some of the best oysters ever! The no. 2 Les Pousses en Claires were exceptional. Large, sweet, and meaty – I could have eaten ten dozen.
3. L'Avant Comptoir du Marché
We found L'Avant Comptoir du Marché beside the Huitrerie Régis oyster bar, in the corner of the Marché Saint-Germain.
We were already full but were attracted by the funky interior and unusual menu of this tapas bar.
Here you can try small bites of pork, like old-fashioned noir de Bigorre pâté, boudin terrine, slow-cooked pork shoulder in an oyster emulsion.
To start, we tried the hearty corn and sunflower seed bread with pork fat. It was an unusual snack for many, I am sure, but as a Romanian, I grew up eating it, so it reminded me of my childhood.
After that, hubby went with the pâté, while I tried the gorgeous foie gras in dashi and radishes. I savoured every bite.
We washed it all down with a glass of red wine. It was just what the doctor ordered.
4. La Parisienne
You can't visit Paris without trying the city's best baguette. Every year a "Grand Prix de la Baguette" is organised to establish the best baguette, and La Parisienne won the title in 2016.
When we arrived, the line was stretching out the door, and the smell of freshly baked bread and baguettes was impossible to resist.
We got a baguette and ate it at the nearby Jardin du Luxembourg. On a warm day, it's the perfect way to hang loose. Put your feet up on one of the many chairs and watch the world pass. By the looks of it, it's the preferred activity for locals too.
5. Galeries Lafayette Gourmet
This French culinary treat was a surprise by hubby. He watched sufficient food programs about Paris to know he had to visit Galeries Lafayette Gourmet while in the city.
We had been walking for twenty minutes, and I was beginning to be grumpy with him being so secretive. As soon as we arrived at the mall, all my annoyances disappeared. You can't be upset in the presence of good food.
The interior reminded me of Harrods in London, with fine food and sweets shops in all directions making me a little overwhelmed.
One shop, in particular, is La Maison de la Truffe, dedicated to promoting the black diamond of the gourmet world since 1932.
Here, we shared a truffle starter consisting of truffle cheese and salami with a salad, fine ham and scallop pâté with truffles. As main courses, I had the truffle tagliatelle and hubby gorged on the truffle gnocchi. I had to pinch myself to make sure I was not dreaming all this truffle goodness.
Once full, we went perusing the other shops and filled a bag with homemade macarons. To my delight, Aoki Sadaharu, a patisserie that brings a Japanese twist to the French pastry scene, had a shop inside the mall and I was able to taste some of their famous Bamboo and Mâcha azuki cake slices. Here you can try unusual and exotic flavours of macarons, like wasabi, red beans, and sesame.
If you still want to walk around in this paradise of food, I recommend you visit the downstairs where, again, you'll find tasting tables as well as a large organic grocery store. I dare you to resist the organic strawberries. The smell was so powerful, only if I were dead, would I remain indifferent.
6. Chez Papa
Because I have a Parisian friend (thank you Marie!), I picked her brains before we left for Paris. She strongly recommended Chez Papa, a restaurant that allows you to discover the flavours and hearty dishes of Southwest France.
If you pay them a visit, make sure to go hungry. Their dishes are very filling. They reminded me of my grandma's country-style cooking.
After sharing a generous portion of escargot "Papa", with mushrooms and tomatoes deglazed with calvados, creamed and bound with butter, hubby tried the cassoulet "Papa" loaded with melt-in-the-mouth haricots blanc and meat, while I scarfed down my escalope of duck auvergnate, topped with a layer of heavenly cheese au gratin. The level of satisfaction after this meal reached orgasmic levels.
7. Hippopotamus
Hippopotamus is another restaurant recommended by my Parisian friend. You can find it in three locations, so we tried the one in the Place de la Bastille.
It's rather easy to spot the hippo logo outside the restaurant. Once inside, the hippo is present on the walls too, in cute depictions of French high class.
Because Parisians have a passion for steak and fries, we could not leave without having a good steak. Hubby went with rib-eye, while I tried the grilled duck breast with baked potato and indulged in two passion fruit mojitos.
All I know is from now on I will have grilled duck breast and passion fruit mojitos every chance I get. YUM!
8. Marché Bastille
One of my favourite foodie hangouts in Paris is the Marché Bastille. Located in the Place de la Bastille, it's one of the largest food markets in Paris.
The Marché Bastille's food stalls sprawl up the Boulevard Richard Lenoir twice a week, on Wednesdays and Sundays. With more produce than most supermarkets, it's a particularly great source of local cheeses, free-range meats, and excellent fish and seafood, making the market a favourite with bourgeois foodies.
As with most great markets, the vendors chant trying to attract customers, and many allow you tastings.
Go hungry and eat your way through the market. Massive roasted chickens, olives, paellas, cheeses, and seafood wait to be savoured.
We indulged in fresh oysters and scallops, shucked in seconds in front of us by the vendor who was joking it's good we are eating them as they are a known aphrodisiac. Being there gave me a feel-good state of being. The people were friendly, and the food is excellent.
Top Budget Travel Tips for Paris:
Don't drive to Paris. It's expensive, due to tolls, and driving in the city is something I don't wish on anyone. The traffic is chaotic, not many drivers respect the rules, there are thousands of mopeds and cyclists popping from everywhere, and the red lights are mostly for decorative purposes as most pedestrians cross on red.
If you cannot find good deals for flights, the train is an excellent and fast alternative. Book in advance for best deals. We managed to find tickets for two, round trip, for 160 euro.
Once in Paris do not bother with taxis, you'll stay in traffic until the end of time. Get the 1, 2, or 3-day public transportation passes and use the metros, as they depart every 3-4 minutes. A 3-day pass, valid on all the metro and bus lines, was 28 euro, a bargain.
Use the bus system only in the evening after the traffic dies down.
Credit cards are accepted everywhere including the markets.
Mind your belongings; there are pickpockets at all major sights.
If restaurants are not a possibility, visit the Parisian covered and open markets for fabulous and affordable food.
Most restaurants have menus in English, make sure you ask for them.
If you order water in a restaurant, as long as you don't order sparkling water, it will always be tap and free.
Paris is open even on Sundays!
There is good LTE phone coverage making it easy to use your mobile to get around with Google Maps.
Be ready to open your bags for inspection at all the sights and large stores.
More Foodie Experiences in Paris
We can't always have solo foodie escapades. To have one in Paris was a dream come true and an experience I will never forget. With what we saved on travel and accommodation, we were able to let loose and, for two and a half days, indulge in some of the best food Paris has to offer. I urge you to do the same, even if you're not a foodie. If there is a nation that knows good food, it's the French, and you'll have an unforgettable experience.