THIS POST MAY CONTAIN COMPENSATED LINKS. FIND MORE INFO IN MY
DISCLAIMER
.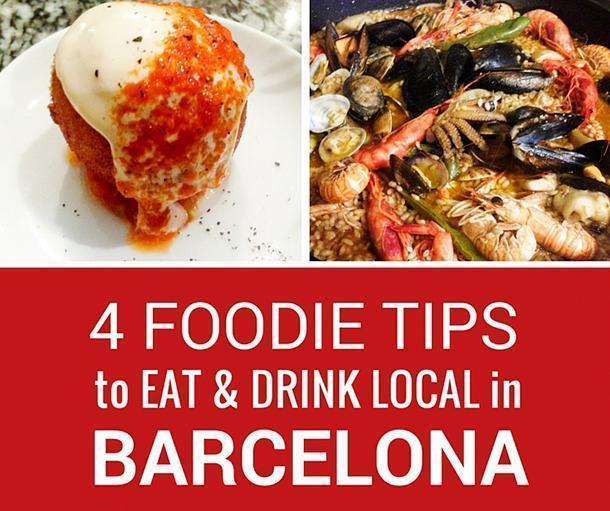 Guest contributor Chris shares her 4 favourite foodie secrets for Barcelona, Spain so you can eat like a local on your next visit to Catalonia.
If food is one of your major travel motivators, Barcelona, Spain should figure high on your list of destinations in Europe. It's the perfect place to indulge your taste buds without spending a fortune, as long as you stay away from the tourist traps perched around attractions like La Rambla and Sagrada Familia Temple. Prices are more than reasonable for fresh Mediterranean fare. You'll find regional and national wines are cheap by the glass and the bottle, and portions are generous, especially when it comes to midday fixed-price menus at neighborhood bars and restaurants.
Just be advised, service is likely slower than you're used to, vegetarian and gluten-free options are few and far between, and a few euro coins are more than sufficient for a tip. On the bright side, it's almost unheard of for a waiter to rush you out the door, so you're free to linger over every course and after-dinner coffee.
For a truly local experience, try to make room on your Barcelona eating itinerary for the four types of establishments listed below.
For cheap tapas: Bars de sempre
In love with inexpensive bar food? Try Barcelona's old-school Bars de Sempre, (literally translated as "always" bars) in neighborhoods a little way from Plaza Catalunya. These tiny corner bars can be grimy, and aren't the prettiest to look at, but the food and drink are good and cheap. Your best bet is to head for neighborhoods like Sants, Eixample Esquerra, and La Barceloneta.
One of my favorites is Bodega la Peninsular (c/del Mar, 29) in Barceloneta.  The squid ink croquettes are silky in the middle and lightly crunchy on the inside. Their version of Barceloneta's best-known tapa, the bomba, a small ball of potato mash, stuffed with spicy ground meat and topped with garlic mayo and hot sauce, figures among my favorites. I like the addition of ground black pepper.
Another great Barceloneta Bar de Sempre option is El Vaso de Oro. But be forewarned, chairs are in short supply (it's about 75% standing room only).  Order up their boquerones (raw white anchovy filets marinated in lemon) or creamy Russian salad on toast and wash it all down with a local artisan beer.
For a hefty snack or a light meal: Vermuterias
While brunch is fairly widespread in Barcelona restaurants, it can't hope to replace the firmly cemented local tradition of Vermut. Originally a snack to tide men and kids over after Sunday mass while women rushed home and made the large midday meal, it's come in and out of fashion, but never quite disappeared. Chips, canned and cold delicacies (usually seafood)  are drizzled in local Espinaler paprika sauce and washed down with vermut, in English, vermouth, a fortified, spiced wine. Most often, the vermouth is served on the rocks with a lemon or orange wedge and green, pitted olives. Some patrons, myself included, prefer to add soda water to taste.
Two great places for vermouth in Barcelona's Eixample neighborhood are Morro Fi (c/Consell de Cent 171) and Senyor Vermut (c/Provença, 85). Just be prepared to wait for a place to sit, especially from mid-morning to early afternoon on weekends.
For paella and seafood: neighborhood restaurants and cooking schools
When it comes to seafood, I'm going to advise something that sounds counterintuitive, but hear me out. Because travelers to Barcelona almost always head to the port for the freshest fish, I recommend skipping the overpriced paella and "catch of the day" in Barceloneta and the seaside part of Barcelona in favor of the city center. In some establishments, as much as I'm ashamed to admit, restaurateurs are known to serve up day-old or frozen fish to tourists who "don't know any better" and save their best stuff for regular patrons.
Away from the seaside crowds, where restaurants cater to locals, you're more likely to find recently caught, authentic, and reasonably priced fare. For fresh fish and lovely paella, I tell friends and family to head to Ca La Nuri.  The middle-of-the-day "basic" menu is a steal at just under 15 Euros for Paella or it's noodly-cousin, Fideuá plus a starter, bread, a drink, and coffee or dessert.
For fellow cooks and foodies, I recommend cooking courses like those featured at Barcelona Cooking (for English speakers) or La Patente (For Catalan and Spanish speakers) where the talented chefs will show you how to prepare Paella and other seasonal specialties. Don't worry about going hungry. You'll get to feast on the fruits of your labor afterward, and the courses include wine.
For Traditional Catalan Fare: Country Manors
While Catalan favorites like botifarra sausage and grilled veggies with Romesco sauce can be had in the city center, they taste so much better at a masia, or traditional Catalan farmhouse. Scattered throughout Barcelona's outskirts and surrounding areas, masias are part of a long-held tradition of getting away from the city and going outdoors on weekends and holidays for fresh air and hearty food.
For a rustic, traditional experience, make the 40-minute drive Collserola Natural Park. Take a hike and then hang around for lunch at the park's oldest masia, Can Ribes. Or hop the L3 Metro line to Montbau and enjoy an elegant dinner at the emblematic Can Travi Nou, housed in a restored 17th-century farmhouse. Look for seasonal dishes like calçots (grilled spring onions) and bolets (wild mushrooms) as well as unique spins on Catalan classics like canelons—pasta stuffed with meat or vegetables and coca, Catalan flatbread.
Latest posts by Chris Ciolli
(see all)