THIS POST MAY CONTAIN COMPENSATED LINKS. FIND MORE INFO IN MY
DISCLAIMER
.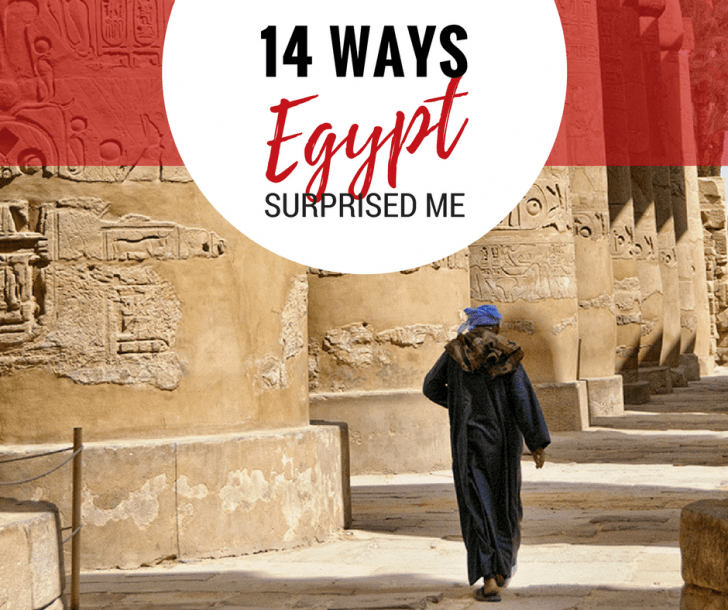 During my brief visit to Egypt, this diverse, historically and culturally rich country surprised me in a number of ways. These 14 facts about Egypt may surprise you too.
Back in March, I went on my first paid assignment as an AFAR Ambassador. If you follow our Facebook Page or Twitter, you probably saw mention of my travels to Egypt, and you might have wondered why I haven't written about it. I have, in multiple places, just not here. Today I'm changing that.
In addition to sharing the work I did for AFAR and USTOA, I want to share some of my personal experiences, and a 'behind the scenes look' at my all too brief visit to Egypt – a country that surprised me in many ways.
This post is different from my usual articles because it shares some of my experiences as a travel writer, not just a tourist. I've kept my discoveries, more or less, in chronological order. This post is much longer than usual, but I hope you enjoy it.
A bit of background:
My assignment was to share how travellers could experience Egypt like a local while on an Abercrombie & Kent tour of the country.
Problem #1: Time – I didn't get to participate in the whole 10-day tour. I had just over three days to cram in as much Egypt as I could. While it was filled with extraordinary experiences (as you'll see), it was no holiday. In 4 nights, I had about 7 hours of sleep. Total. While the other guests were lounging in their gorgeous rooms, I was huddled in the lobby (the only place I could get wifi) doing my required social media updates, responding to emails, and keeping CheeseWeb running. When I got home, I slept. For a day.
Problem #2: Restrictions on Media – This could also fall under things that surprised me about Egypt, but it's vital for background. Unlike anywhere else I have visited as a travel writer, Egypt placed restrictions on what we could do and (especially) film and photograph. I was travelling with several other journalists, and we were required to register with the ministry of media and have a 'minder' with us for one day of our visit. It was truly odd. My hat goes off to the incredible A&K staff, who paved the way for us. They fought to show us the 'real' Egypt and not just the glossy brochure version. Even so, the 'minder' refused to let us eat street food in Cairo and was pretty particular about where I pointed my camera.
Now, on to the good stuff:
First, I must admit, Egypt was never high on my 'places to visit' list. I felt a bit guilty about this, as I know it's a dream destination for many. As a child, I loved reading about Ancient Egypt, and even went through a phase of wanting to be an archaeologist, but that fascination didn't carry into adulthood.
It didn't help that I had just come from my first experience in North Africa and it had been a challenging one. Add to that my fear of package tours and you can see why I had mixed feelings. While I was excited about this great opportunity, I couldn't help feeling a bit of trepidation about the whole thing.
As soon as I set foot in Cairo Airport, all of that trepidation vanished.
Surprise #1 – Egyptians may just be the most welcoming people on earth.
Before I even made it to baggage claim, smiling A&K representatives surrounded me, shaking my hands and welcoming me 'home'. I felt like a VIP as they whisked me through customs. My passport re-emerged in my hands with a shiny new visa, and I didn't have to stand for one minute in the confusing lineup. Score one major point for the package tour.
But it wasn't just the fabulous folks at A&K who were friendly, the Egyptians I met, in general, were smiling, friendly, and curious. They wanted to know where we were from, why we were there and, most of all, what we thought of Egypt. "Welcome to Egypt" and "Thank you for visiting my country" were phrases I heard countless times over the coming days.
Surprise #2 – The Pyramids are RIGHT THERE.
My plane landed in Cairo at 8:30 pm, so I arrived at my hotel in the dark. The Mena Palace is an incredible hotel, and the common areas still resemble the palace it once was. But it's the location that wows, more than anything.
The rooms are in a building separate from the lobby. My luggage and I were loaded into a golf cart and taken to my room. The attendant showed me the room amenities and then led me to the balcony. "Before I go, there is something you must see Madam. Please sit." He pointed to the lounge chair on the terrace. I sat and looked up. Through the dark, just beyond the hotel, I could see one of the Pyramids. The attendant pointed out the top of a second one, peeking over the Mena Palace.
In the morning, I opened the curtains and saw this:
Now, rationally, I know the pyramids are close to the city. I even looked up the hotel on Google Maps before visiting. However, there's something about waking up and seeing those giant triangles of stone looming over you that is unforgettable. I was undoubtedly in Egypt.
Surprise # 3 – Package tours are not all created equal.
The first time I ever visited Europe was on a package tour. Andrew and I boarded a Contiki tour bus full of twenty-somethings, the year after we were married. We saw 14 cities in 16 days. It was wonderful, crazy, and we pretty much swore we'd never do it again.
While we love to explore the world on our own, we have agreed, there are certain times and specific locations when a guide is necessary. Still, the sight of big groups of tourists in matching hats, trooping after someone holding a flag in the air, sends me into convulsions. Abercrombie & Kent couldn't be farther than that image, and I would, without hesitation, recommend them to anyone (myself included).
While there were about 70 travellers on the Egypt tour, they were broken down into smaller groups (of about 15 people), with a dedicated guide. The guides are all trained Egyptologists, and they are fantastic. Our guide, Mohamed, was so passionate about Egypt and its history; you couldn't help but be caught up in his enthusiasm. He brought each site to life and made even the most unadorned tomb into an extraordinary window on history.
A&K also allowed us to have truly local experiences. While we were hitting the big tourist sites, we also had time to meet people from all walks of Egyptian society and gain insight into not only the past but recent events as well. (Read about my local experiences on the USTOA blog.)
Surprise #4 – The Pyramids are really big – and empty.
Despite being the main attraction in Egypt, the pyramids were not my favourite ancient site. (We'll get to that soon). However, I can't deny, from the outside they are impressive.
You can go inside the Great Pyramid, but honestly, there is nothing to see. It's quite a trek to get inside, up a steep incline, to reach a small, empty chamber. You can't take photos inside, although I honestly don't know what you would photograph. If you're pressed for time, admire the pyramids from the outside and then move on.
Surprise #5 – The Sun Boat Museum is fascinating.
Right behind the largest pyramid is the Solar Boat Museum. It was the one thing on my agenda I expected would be boring. I was wrong. Read about it on AFAR.
Surprise #6 – Riding a camel is touristy, but I loved it.
You can't avoid the 'Egyptian Taxis' all around the Giza Plateau. Yes, it's the touristy thing to do, but it was still one of my favourite experiences.
Surprise #7 – The Egyptian Museum is VAST (and well guarded).
You could spend a whole day at the Egyptian Museum in Cairo, and you probably should. I just had a few hours there, and I was literally running from exhibit to exhibit. You aren't permitted to take photos inside (I had special permission thanks to my 'minder'), but honestly, you should just focus on taking it all in.
Having an excellent guide here is well worth it because there is little explanation of the individual items. In fact, a new modern museum, near the pyramids, is in the works. It will be much better for preserving the artefacts and easier for tourists to visit. Still, there's a great colonial atmosphere in the current museum: the dusty shelves, the cluttered displays. I kind of loved it.
Of course, the big draw is this guy.
All I can say is seeing King Tut's treasures in photos and film does not do justice to the opulence and sheer volume of objects that came out of a tiny tomb. (Read more on AFAR.)
One aspect of the museum, you won't see in the brochures, is the massive police and army contingent guarding the building. The museum is located in the heart of Cairo, just steps from where the bulk of the Arab Spring uprising took place. During the confusion, a few of the artefacts were stolen or damaged. Since then, the museum has been under heavy guard to protect the invaluable history here.
I can honestly say I have never walked a gauntlet of tanks to enter a museum before.
After the museum… we went for food.
Surprise #8 – Egyptian food is unique and delicious
Despite not being allowed to eat street food, I did find some real foodie gems in Cairo. You can read about them on USTOA's blog. I'm still dreaming of the falafel.
Surprise #9 – Egypt reminded me of India
As I mentioned in the intro, I had visited Morocco not long before my Egypt trip, and I expected the two countries to have a lot on common. While there were a few similarities, on many more occasions, I found myself comparing Egypt to India. It's difficult for me to articulate the similarities, but one obvious one was the traffic. It seemed like absolutely everything is on the road in Egypt – Much like India.
All of these photos were taken through our bus window while driving through Egypt:
Surprise #10 – The best attractions are the unknown ones
This actually shouldn't be a surprise to me. We find this proven again and again around the world. While the pyramids are a must see, there are a few places we visited that aren't on the typical tourist path.
The ancient capital of Egypt, Memphis, boasts the Mit Rahina Museum. We were virtually the only people on site to admire the enormous sculpture of Rameses II, carved from a single block of limestone. Even missing half of his legs, Rameses is over 13 m long.
We were also the only visitors to Egypt's oldest known pyramid, the step pyramid of King Zoser (or Djoser). The courtyard complex includes some incredible carvings inside the tombs, and we didn't have to share the space with anyone else.
Surprise #11 – Sometimes a 3:30 am wake-up call is worth it.
My third and final day in Egypt was spent in Luxor. But to complete our jam-packed schedule, we had an early morning flight. Very early. We left the hotel at 4:45 am to head for the airport. By 8 am, we were in Luxor.
Our first stop of the day was the favourite of my whirlwind trip – Karnak Temple.
I've used the words vast and huge several times in my descriptions of Egypt – but everything about this site is on an enormous scale. It was also one of the few places busy with other tourists (but still not nearly as active as it was before the revolution in 2011).
The section of Karnak open to the public, the Precinct of Amun-Re, is only part of this incredible temple complex. Over 30 pharaohs contributed to the expansion of this site, giving it endless decoration and complexity.
The most striking feature is the Great Hypostyle Hall, built around 1290-1224 BCE. The hall is 5,000 m2 (50,000 sq ft) and has 134 columns in 16 rows, which used to support the roof (now long gone). The two middle rows are taller than the others are and reach a staggering 24m (80 feet) high. They are covered in carvings, which once would have been richly (or garishly depending on your perspective) painted.
It's impossible not to be awed while walking in the shadow of these huge pillars.
Surprise #12 – You could explore the Valley of the Kings and Queens for days
We had an afternoon to explore the tombs littered throughout the Valley of the Kings. For 500 years, Pharaohs and other powerful nobles were buried in tombs on the west bank of the Nile. 63 tombs have been discovered, but it's believed many more are hidden here.
The most famous of these tombs is that of Tutankhamun. Little remains inside the tomb. After seeing an entire wing of the Egyptian Museum dedicated to its contents, it's incredible to stand in the tiny space that once housed so much opulence.
Photos aren't permitted inside any of the tombs and entrance is limited to protect the brightly coloured paintings that decorate the interiors. Some are so richly decorated they must have taken years to carve and paint.
The Valley of the Queens is located nearby. In addition to housing the burial sites of the Pharaohs' wives, it was also used for princes, princesses and other nobility. The most striking of these is Hatshepsut's temple at Djeser-Djeseru. Unfortunately, we didn't have time to enter this temple, but even its exterior is stunning.
Surprise #13 – The Nile is a fantastic place to watch the sunset.
One of the highlights of A&K's tour of Egypt is a cruise down the Nile on the Sanctuary Sun Boat IV. I was fortunate to spend my final hours in Luxor on the ship's deck, watching the sun sink quickly to the horizon. My first (and only) moment of relaxation included a comfortable lounge chair and a gin and tonic in my hand.
All too soon, I was whisked downstairs to eat a quick supper before being driven to the airport for my flight back to Cairo. There, I had a few short hours in a hotel, before my dawn drive back to the airport and my flight home to Brussels.
Surprise #14 – I want to go back to Egypt.
Despite my whirlwind tour, and several wonderful trips elsewhere since, I find my memories of Egypt coming back to me at strange times. I haven't been able to shake it, and I find myself wanting to return. I feel I barely scratched the surface of this historically and culturally rich country. I want to experience the hospitality and curiosity first hand, and next time I'm definitely going to seek out the street food.
You can see all of my Egypt highlights for AFAR in my Wanderlist 4 Magical Days in Egypt.
While in Egypt, I was on assignment for AFAR and USTOA. I was a guest of Abercrombie & Kent tours and Experience Egypt. All opinions expressed here are, as always, my own. 
Latest posts by Alison Cornford-Matheson
(see all)