THIS POST MAY CONTAIN COMPENSATED LINKS. FIND MORE INFO IN MY
DISCLAIMER
.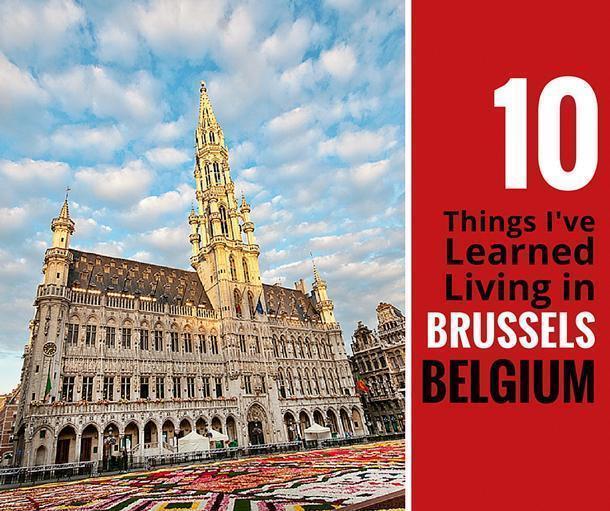 Belgium is a quirky place. Those of us, who have been expats here for a while, forget just how strange it can seem to newcomers. Today, our guest contributor, Laura, shares her observations, after a year of living in Brussels.
After a year of being Brussels-based, I thought it was time to reflect (light-heartedly) on life in this Low Country…
1. The weather is mental. I stepped off the Eurostar in August 2012 and walked slap-bang into the midst of the most extreme (and perhaps only) heat-wave Belgium has ever seen. It was so hot I nearly wept – oh, OK, who am I kidding? – I did weep, silently, in a toilet cubicle in Cafe Belga, with my face pressed against the relative coolness of the PVC-coated chipboard.
But then fast-forward to the weeks of snow; I didn't see pavements for a month. And the rain – God, the rain. I've seen it all, in its many, many forms and, from experience, deceptively-potent drizzle is my least favourite. Today, as I write, we're preparing for a barbecue. Temperatures are practically tepid. Tomorrow, the forecast predicts a fat-dropped downpour. When will this madness end?
2. Belgians LOVE their paperwork. It's no secret Belgians are a bureaucratic breed, with a special place in their hearts reserved for important bits of paper, signatures, police-checks and official stamps. But I didn't truly get it. Then I had a conversation with Admin Assistant X (I preserve her identity only because I'm frightened she might track me down and finish me off), in the joyless basement of Etterbeek Commune, which I can only liken to being savaged by something small and nasty like, say, a stoat.
Lesson learnt: forget any important document you've accumulated at any point – since the dawn of time – passport, rental agreement, Tesco clubcard, swimming certificates – at your DOOM.
3. Belgian beer and bar snacks are a triumph of simplicity over fussiness. But after a dispiriting onslaught of civil administration there's always the beer, the bar snacks and the realisation that a 5% half-pint and a plate of cubed cheese, celery salt and mustard is an entirely appropriate evening meal. Highs and lows.
4. The eye-watering expense of groceries/mid-week essentials in the European Quarter.  Have you ever bought a pepper in the Carrefour Express near Place Lux? I don't advise it. It will cost you approximately €47.
5. Mannkein Pis is perhaps the strangest tourist site in northern Europe. A test: try to explain it to someone who's never been to Brussels.
You: And then there's Mannekin Pis. It's one of Brussels' most famous landmarks.
Friend: Oh, sounds wonderful. What is it? A natural phenomenon? An architectural feat?
You: It's a statue.
Friend: Neo-classical, is it? Or something in the art nouveau style, perhaps?
You: Well no, not really. It's a micturating child.
Friend: A what?
You: A child. A boy. Peeing.
Friend: What?
You: It sums up the rebellious and convivial spirit of the Belgian people. And sometimes he's dressed up.
Friend: As what?
You: Oh, you know. Elvis. St Nicholas. Once he was decked in the garb of an African farmer and urinated milk.
It makes you sound like a raving lunatic.
6. That nothing strikes fear in me quite like the sight of STIB inspectors getting onto the Metro. Even when I know – I know – my ticket has been validated. Is it just me?
7. Street Parades. Marching Bands. Incredible moustaches. Everywhere. All the time. From April to September, walk down any central Brussels street and chances are you'll come across one of these. If you're lucky, you might just find yourself presented with all three.
8. Bizarre Shop Window Displays. Public holiday, pagan festival, whatever: Belgian shopkeepers seem to take great pride in creating incongruous window displays to commemorate the occasion. Easter eggs and spectacle frames. Hair extensions and fluffy yellow chicks. Sun-faded crossword books and Santa hats. A particularly endearing Belgian peculiarity.
9. Graffiti Pencils. They're everywhere. The Brussels Runners even did a Brussels Marathon Pencil tour of the 70-odd graffiti pencils all over the city. Some are raunchy, some are sweet and some are…well, odd. Look out, look up and peer over bridges to try to spot the hidden ones.
10. The absence of any kind of 'Health and Safety'. My dad – a man who has been engaged for his whole life in the kind of hard, physical work that makes me ashamed of my soft hands – visited Brussels last September. Surveying the scene as workmen dug up our road, he shook his head, mystified. 'Not a single helmet, no goggles, no ear protection,' he mused. Next time he comes, I'm going to take him to Schuman station for an extra-special treat.
Do any of these ring true? What other eccentricities have you noticed? What intrigued/frustrated/delighted  in your early days of Brussels living? I'd love to know…
Looking for more resources for living in Belgium? Check out our Expat Resources page.
Looking for a place to stay in Brussels? Book hotels at the best possible rates below: