THIS POST MAY CONTAIN COMPENSATED LINKS. FIND MORE INFO IN MY
DISCLAIMER
.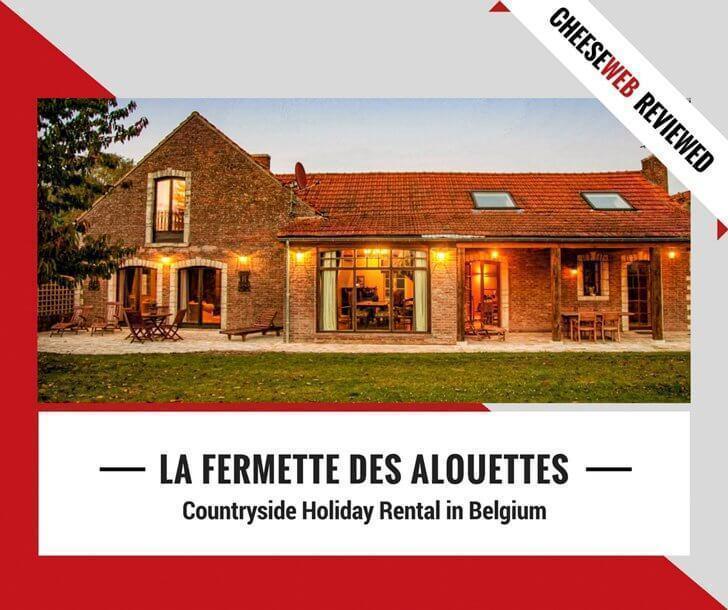 If you're looking for countryside holiday cottages in Belgium, you don't have to go far beyond Brussels to escape to nature. Monika reviews La Fermette des Alouettes, an 18-century farmhouse in Beauvechain.
Winter is upon us, with frost in the air. But I have lovely memories of this autumn to share. I love nature's festival of colours with leaves taking vivid hues of yellow, orange and brown. So when you're invited to witness this phenomenon in the surroundings of an 18th-century farmhouse within 30 minutes drive from your house, you just say 'yes.'
I put my little one in the car and drove 30 minutes north of Brussels, where I was in the beautiful surroundings of La Fermette des Alouettes. Recently, the farmhouse was carefully renovated to include all the modern amenities while still retaining the old-world charm of the property.
I was warmly welcomed by the property's super-efficient caretaker and my host for the stay, Agnes. She took me around this 40002 foot property and acquainted me with the essentials, although I received a 'welcome pack' explaining things to do in the area beforehand. The drive was beautiful, and as they had sent proper instructions in the pack, it was a breeze finding my way. What made me and my little one especially happy was being transported to the beautiful countryside in just a matter of 30 minutes, making it a perfect weekend getaway from the city.
The newly restored Fermette des Alouettes is a villa built in the 17th century of Gobertange stone. It has two living rooms on the ground floor, each with a fireplace and piano.
There is a vast relaxation area on the first floor with fantastic views of the countryside. It has a cosy and comfortable atmosphere, perfect for reconnecting. It also has a television if you need one. The wifi is not adequate for such a large property, but I guess you travel to get away from the hustle and bustle of the city life.
There are four bedrooms; one on the ground floor and three on the first floor. Each room has a different colour scheme carefully curated to create a specific atmosphere. The master bedroom is on the ground floor with an attached luxurious bathroom. It exudes warmth with its gold, tan, and brown colour scheme.
The other bedrooms are located upstairs and are named according to the colour schemes. The Ivy Room has a fresh atmosphere with its play of greens and creams, whereas the Louis Philippe Room is elegant in shades of turquoise, light blue, and silver.
The tan and cream décor in the Campagnard Room make it feel serene. For me, it is imperative the property has excellent bathrooms, and La Fermette des Alouettes did not disappoint in this regard. There are two, one on each floor, with good sized showers and bathtubs for a bubble bath and offer complete relaxation. Probably, another shower or tub would have been ideal.
The kitchen still has a scalloped brick ceiling and is renovated with all the modern amenities including a stove, microwave, oven, toaster, coffee machine, dishwasher, and enough crockery and cutlery for a group of 20 people.
There are two dining areas, one for a lazy breakfast in the kitchen and one for formal dining.
If you are lucky, you can have a sumptuous breakfast sitting on one of the house's many terraces, which I did despite the cold weather. Agnes was kind enough to bring me the most delicious home-baked bread, with her incredible selection of jams and conserves. My little one, who is a picky eater, thoroughly enjoyed the bread and preserves, and I did too. She also kept eggs, milk, cheese etc. in the refrigerator. There is also an honour kitchen, from which you can use the items you need.
The property is just a 15-minute drive from the Hoegaarden brewery. It is a perfect weekend getaway from Brussels and the ideal location to spend time with friends and family surrounded by nature.
La Fermette des Alouettes comfortably sleeps ten people and also has baby cots if there are accompanying infants. There are beautiful views from the property, a lovely garden where you can sit and enjoy your meals, and a petanque pitch if you need some exercise.
La Fermette des Alouettes can be booked on Booking.com, [Check current prices here] and prices start from 49 euros per person per night with discounts offered for stays over four nights. A one-time cleaning is included in the price. The housekeeper, Agnes, and the property owner, Lisa Morgan, are always responsive to your requests and questions.
So if the winter blues are draining you out, head to La Fermette des Alouettes in Beauvechain, and you will feel happier being one with nature!
La Fermette des Alouettes
Rue des Alouettes 1,
1320 Beauvechain, Belgium
We'd like to thank La Farmette des Alouettes for inviting Monika to review the property. As always, our writers share their honest opinions which remain theirs alone.