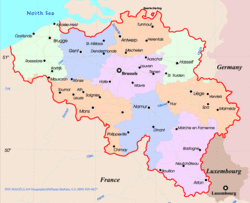 Belgium is a tiny country sandwiched between The Netherlands to the north and France to the South. The official languages are French, Dutch (Flemish) and German, although English is widely spoken.
10.5 million people live in 30,528 square kilometers.The country is divided into Flemish speaking Flanders, to the north, French speaking Wallonia, to the south (with a small German enclave to the East) and the officially bilingual Brussels capital region.
Belgium is known to the outside world for beer, chocolate and lace. It is home to the EUand NATO, a complicated government and a whole lot of red tape.
Contrary to popular belief, there are hundreds of famous Belgians, including: Tintin creator Hergé, musician Jacques Brel and the inventor of the saxophone, Adolphe Sax.
Since arriving here in 2005, I have amassed a collection of useful links to information about all aspects of Belgium. I share these in the hopes that they will be useful to someone else as well. If you have any others you feel should be added, email me and I will consider any relevant additions.
English News Sources
Art and Culture
Tourism
Government and Public Services
If you are renting property in Belgium then the following sites may be useful:
I have written extensively about my own observations and impressions of Belgium since we arrived here. You can find these writings in Expat Life category of this blog.
If you are interested in restaurants in Belgium, and elsewhere, you can also read about my favourite restaurants.